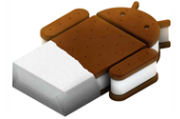 Motorola has promised to upgrade many of its smartphones and tablets to Android Ice Cream Sandwich, but not any time soon.
So far, Motorola's Xoom Wi-Fi is the only device that has received Android 4.0, and the Xoom Family Edition is the only U.S. device scheduled for an update in the first half of the year. Five other Motorola devices will get Ice Cream Sandwich in the third quarter, including the Atrix 4G, Atrix 2, Photon 4G, Xyboard 8.2 and Xyboard 10.1.
Meanwhile, rumors have it that Android 5.0, codenamed "Jelly Bean" may arrive this spring.
Ice Cream Sandwich is a major upgrade for Android, combining Google's phone and tablet software into a unified platform. In addition to the new look, ICS includes hardware acceleration to make the interface smoother, a face unlock feature, better voice dictation, built-in photo editing, a redesigned contacts app, and the ability to answer a call with an automated text message, among other features. It's also the only version of Android that supports Google's Chrome browser.
So far, only 1 percent of Android users who have recently accessed the Android Market are running Ice Cream Sandwich.
Android 4.0 Upgrades Lagging
Motorola has promised that its latest phones will get Ice Cream Sandwich, including the Droid Bionic, Droid Razr, Droid Razr Maxx and Droid 4. But those devices, along with nine other U.S. phones and tablets, are listed as in "Evaluation and Planning," with no release timing given.
A post on the Motorola owners' forum has complete upgrade details for all the company's Android devices. That, at least, should be applauded, considering that most Android phone makers don't offer one place to get all of this information.
But the lack of upgrade timing for Motorola's latest phones is a letdown. The wording in Motorola's press releases for the Droid 4 and Droid Razr–"to be upgraded to Android 4.0 Ice Cream Sandwich"–suggests that the company at least had upgrade plans in place. The actual timeline tells a different story, with all the latest phones still in the evaluation phase.
Motorola recently tried to blame slow Android upgrades on hardware, telling PCMag that "multiple chipsets and multiple radio bands for multiple countries" were to blame. Conventional wisdom holds that software modifications by device makers and wireless carriers also slow down the process, because of the time it takes to merge their code with Google's.
Follow Jared on Twitter, Facebook or Google+ for even more tech news and commentary.