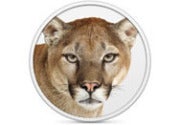 Apple announced OS X 10.8 Mountain Lion today, and something was immediately noticeable: it looks just like the latest version of iOS. From the notification system to iChat, it's clear that mobile is taking the lead in Apple's headquarters.
Mountain Lion is less of an upgrade to last year's OS X Lion, and more an ode to Apple iOS 5. The new iChat doesn't look like iChat, but Messaging on the iPhone. The Notification Center is straight from iOS, with the latest software and message updates in the same font and format as on the iPhone. Even GameCenter, the rough Xbox Live-style social network, will be added to Macs running Mountain Lion–and it will look exactly the same as the iOS counterpart.
So it looks like mobile is king–but can we blame Apple? The iPad, which sold 55 million units in the past two years, is still dominating. Compare this to Mac sales, which analysts believe are being cannibalized by iPads. A similar-looking user interface across Macs and iPads may encourage more iPad users to buy Macs.
Apple, of course, isn't the first company to think mobile on desktops–from the outset, Microsoft's upcoming Windows 8 has been hyped as a universal platform for both PCs and tablets. We'll know more about Windows 8 when the public beta goes live later this month, but the known details already point to a significant mobile influence:
Touchscreen support (not yet commonplace on desktop systems)
Windows Store (a completely app-based system)
Metro UI (based on Windows Mobile 7)
Numbers show that Microsoft, Apple, and other companies are wise to put mobile ahead of desktop. According to the analyst firm Canalys, vendors shipped 488 million smartphones last year compared to 415 million PCs. The number doesn't include tens of millions of tablets sold by Apple and other manufacturers in 2011.