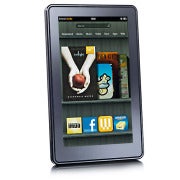 Apple continues to dominate the worldwide tablet market, but the real story is the rapid rise of Amazon's Kindle Fire.
New data from research firm IHS iSuppli shows the Kindle Fire made an impressive debut in the fourth quarter of 2011. Amazon shipped 3.9 million units of its new color tablet, enough to grab 14.3 percent of the global market and surpass Samsung Electronics, which sells the Galaxy Tab series of slates.
Apple's share of the tablet space fell to 57 percent in the fourth quarter–down from 64 percent in Q3–but Cupertino still rules the roost by a wide margin. Apple shipped 15.4 million iPad and iPad 2 units in the fourth quarter, nearly four times the number of Kindle Fires shipped.

Despite the Fire's sizzling debut, it's unclear whether Amazon's tablet strategy–which at the present time means selling the $199 Fire at a small loss–will work in the long run.
IHS researcher Rhoda Alexander said in a statement that "the long-term viability of the (Fire) will hinge on the success of Amazon's business gamble, which depends on tablet sales driving substantial new online merchandise sales at Amazon.com in order to attain profitability."
iPad vs. iPhone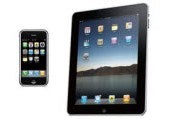 The iPad's biggest competitor in the fourth quarter wasn't the Kindle Fire, but rather Apple's own iPhone 4S, iSuppli says.
"The rollout of the iPhone 4S in October generated intense competition for Apple purchasers' disposable income, doing more to limit iPad shipment growth than competition from the Kindle Fire and other media tablets," said Alexander.
While that may be true, there's little doubt that Apple hears Amazon's footsteps. When a competitor grabs 14 percent of a market you own–and does so in a single quarter–you're bound to take notice.
iPad Junior?
The Kindle Fire's success lends credence to recent rumors that Apple is testing an 8-inch "iPad Mini," a smaller slate that reportedly would offer features similar to Amazon's 7-inch color tablet. Apple officials, however, haven't decided whether to begin production of the device, The Wall Street Journal reports.
Another possibility, one I floated in early December, is that Apple will continue to sell the iPad 2 once the iPad 3 arrives, albeit at a reduced price to compete with smaller tablets in the $200 to $250 range, including the Kindle Fire and Barnes & Noble Nook Color and Nook Tablet.
Contact Jeff Bertolucci at Today@PCWorld, Twitter (@jbertolucci) or jbertolucci.blogspot.com.