With Windows 8 coming later this year, Ultrabook makers are reportedly scratching their heads over how to integrate touchscreens with thin-and-light laptops.
Existing Ultrabook designs are inadequate, DigiTimes reports, because when you tap the touchscreen, you might end up pushing the top panel downward. Strengthening the hinge is an option, but then the entire laptop could topple back if you push too hard.
So now, instead of forcing touch on traditional clamshell setups, laptop makers are looking into other options, such as rotating or sliding screens that turn the devices into tablets. Lenovo's solution, for example, is the Yoga, a laptop that folds all the way around into a tablet, with its keyboard disabled on the reverse side.
Sounds good to me. The idea of reaching out to a touchscreen on a traditional laptop always seemed awkward, because you have to reach over the keyboard and subject yourself to gorilla arm.
But as long as we're brainstorming, I have one appeal to Windows 8 laptop makers as they try to combine laptops and tablets into a single device: Please, please, do not neglect the trackpad.
The trackpad is not only more comfortable than touchscreens in a laptop setting, it's more accurate, and it allows the user to execute shortcuts through right clicks. Selecting text is also easier with a pointing device, because you can simply click and drag. For a tablet to double as a laptop, I'd argue that a trackpad is just as important as a physical keyboard. Fortunately, Windows 8 will support pointing devices throughout the OS.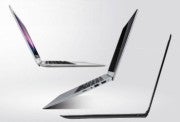 But I'm not sure whether this is sinking in. At Intel's CES press conference, for example, the chip maker showed off a concept tablet whose screen slid back into laptop position, kind of like Asus' Eee Pad Slider. It did not include a trackpad. The Developer Preview tablet Microsoft handed out at its BUILD conference included a docking station that paired with a Bluetooth keyboard, but that keyboard did not include a trackpad. And despite all the Android tablets that have flooded the market, with their accompanying keyboard accessories, Asus' Eee Pad Transformer is the only one I've seen with a trackpad built in.
I, for one, have no interest in Windows 8 tablet-laptop hybrids that do not include a trackpad. Reaching over to a touchscreen is too difficult, and too imprecise, and I'm too reliant on clicking and dragging, and using right clicks for productivity. So as device makers rethink the design of Windows 8 PCs, I hope the trackpad gets the attention it deserves.
Follow Jared on Twitter, Facebook, or Google+ as well as Today @ PCWorld for even more tech news and commentary.