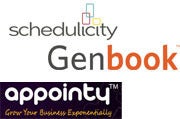 Managing your schedule and booking clients can take up a lot of time that you could otherwise spend serving those clients, or eating lunch. We examined three online booking services that make it easy for clients to book appointments online via your company's website or Facebook page. The three are popular with service-based businesses such as consultants, cosmetologists, and personal trainers.
Each service lets clients pick times that work for them, and then it sends automatic reminders to reduce no-shows. You choose between a solo plan (to support a single owner) or a multiuser plan (to support an unlimited number of staff members who have access only to their own calendar. Since the services function entirely online, there's nothing to install on your computer; and you can access your calendar from any computer that has a browser. Each service also maintains a mobile-friendly website, so you can manage your calendar from a smartphone.
But there's more beneath the surface. Each service has unique features such as promotions, analytics, and the ability to accept prepayments. Which tool is right for your service-based business? Let's take a look.
Schedulicity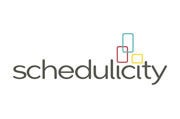 Since it launched in 2010, 15,000-plus subscribers have booked more than 10 million appointments through Schedulicity across the United States and Canada, making it the largest service in our roundup. Schedulicity is also the most robust, with strong customer-relationship management tools and customizable deals and promotional tools.
Signup and Setup
The straightforward setup process walked me through the steps of creating a profile for my music lessons business, defining the types of lessons I offer (including pricing and duration), and specifying the times that I'm available. During sign-up, a pop-up window offered help from a live chat support team, though I found the steps easy to follow without additional consultation; Schedulicity also has lot of videos and even free webinars.
Calendar Management
Schedulicity provides a ScheduleNow button for your website or Facebook page. A client who wants to schedule an appointment clicks the button and then, with the aid of a pop-up, walks through choosing a service and provider and picking a time from among your open spots–all without leaving the browser or having to install anything. After creating an account with Schedulicity, clients gain access to a personalized scheduling page with one-click rebooking, appointment reminders, and links to cancel or reschedule appointments.
Another option is to add appointments or block out personal time from the management page. When you create a new appointment, you can select from current clients or add a new client, and you can create a one-time appointment or a series of recurring appointments.
You can subscribe to your Schedulicity calendar via Outlook, iCal, or Google calendar. Because the subscribed calendar is read-only, you must make changes from the Schedulicity website.
Client Management
Importing my current client list entailed rearranging my spreadsheet to match the columns that Schedulicity needed, but all of the data imported without error. You can rate each client's reliability, and you can define whether individuals can book appointments online or must contact you to set up an appointment. A client history report shows past bookings, deals, and promotions.
The one thing that Schedulicity won't track is money. Clients can't use the service to pay in advance for services, and you can't use it to keep track of deposits that you may require clients to pay in order to hold a time slot. This limitation isn't a big deal if your policy is for clients to pay at the time that they receive your service, but if you require a deposit to secure a time, you'll have to track that separately.
Deals, Promotions, and Marketing
Schedulicity lets you send mass email messages to your clients based on various templates, including industry-specific artwork, newsletters, seasonal promotions, and invitations to book or connect online. You can also invite Facebook fans and Twitter followers to check out your online listing and book online.
News media have reported many instances where businesses that use services like Groupon to offer a deal have lost money when overwhelming response to a promotion has forced the company to provide too many discounted services in a day. Schedulicity helps protect your business from this misfortune by letting you set caps on how many times clients can redeem a particular promotion, and on how many discount-claiming clients can schedule a service on a given day.
Price: $19 per month for a single user; $39 per month for 2 to 20 users; personalized business plans are available for larger numbers of users; 30-day free trial
Pros: Clean, easy-to-understand design; robust marketing tools; lots of support documentation
Cons: No money management
Bottom line: Schedulicity is easy to use despite incorporating lots of options, especially in connection with its robust promotional tools.
Next Page: Genbook
Genbook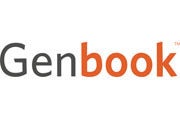 Genbook debuted in 2008 and now serves more than 5000 small businesses in North America. More than 11 million appointments have been booked via Genbook, with hundreds of thousands of new ones added each month.
Signup and Setup
Getting started with Genbook was quick, though not as visually pleasing or easy as with Schedulicity. The management end can be more difficult to work with, but the customer-facing booking process looks professional.
Genbook walked me through the basics of receiving appointments, including setting up staff and services, identifying business details, and listing operating hours, but it skipped some of the setup options.
One default option along the way is Genbook Promote, a service that publishes your business information to partner sites such as local guides and search engines. This feature is free as part of the trial, but it costs an extra $15 per month for solo users and $25 per month for standard subscribers. I'm not a fan of being opted in to things that cost extra.
Calendar Management
Starting a new appointment from the business page would be easy if you could do it by simply clicking a time slot; but rolling over a time slot creates an overlay with Block, Offline, and Away buttons that cover most of the clickable area–which misled me into accidentally setting myself as offline.
When you get to the pop-up for creating a new booking, selecting a service from the drop-down menu will trigger the program to fill in most of the other fields. Though there's no indication that you can search your existing client list, typing a name in the client name box does launch a search. If you choose a preexisting client, the remaining fields will fill in automatically.
The new appointment pop-up also lets you add credit-card information and set up options for recurring appointments. The ability to associate credit-card information is a great feature if you want to charge fees for no-shows. Another possibility is to require individual clients to provide their credit-card information in order to confirm when they book online.
Client Management
Genbook will import a client list from Web email accounts such as Gmail, Yahoo, and Hotmail, or from email applications like Outlook or Apple Mail. You can also upload a contacts file from Outlook, Windows Address Book, or LinkedIn, but when I tried to upload the spreadsheet I already had, the operation yielded a list of email addresses with no names.
Adding new customers through the management interface is straightforward. You can choose whether to permit customers to book freely online, to book online if they supply a credit card number, or to book only by phoning for an appointment. You can also leave notes about particular clients and see a list of services or appointments they have booked.
Unless you opt out of the feature, Genbook will send clients a request to leave a review at the end of their service. You can view and manage the resulting reviews, choosing which to publish and which to hide.
Marketing and Analytics
Genbook provides a Book Now button for your website and a tab for your Facebook page. You can also send mass email invitations to clients to book online. Genbook doesn't have tools for offering promotions or discounts.
An analytics tools shows revenue and appointments, sorted by service or by staff member. This can help you identify sales trends, forecast future performance, and see which employees and services are doing well. Staff members won't see the analytics tab when they log in to manage their own schedules.
Price: $20 per month for a single user; $40 per month for an unlimited number of staff members; 30-day free trial
Pros: Can store credit-card information to enforce cancellation and no-show policies; powerful analytics
Cons: Confusing interface; no promotional tools
Bottom Line: Genbook lets customers book online while protecting your business from no-shows and fake appointments, but there's no way to manage deals or promotions. Its strong analytics tools can help you stay on top of what's working well for your business and what isn't.
Next Page: Appointy and conclusions
Appointy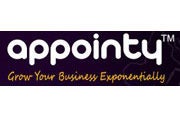 Appointy stands out from the crowd by covering basic online booking at no cost. Higher tiers of service that include more-advanced features are available at rates ranging from $10 to $40 per month. Appointy launched in 2007 and now supports more than 21,000 customers in 78 countries. In 2011, 1 million users booked more than 3 million appointments through Appointy.
Signup and Setup
Appointy's setup process was similar to that of the other services, but Appointy includes a tags section for SEO purposes. It also lets you provide much more information about your staff, such as education and languages spoken, so that clients can choose the right person to work with. I found that setting business hours in Appointy was easier than in any competing service.
Another great option: Appointy lets you accept–or require–prepayment through PayPal or Authorize.Net. This feature enables you to require deposits or to accept prepayments without having to store credit-card information.
Calendar Management
The intuitive calendar interface offers daily, monthly, and agenda views. A dashboard view shows reports on performance, appointments, and marketing.
When booking a new appointment, you can select from existing clients or add a new one. You can also create recurring appointments, and Appointy is the only service here that allows clients to set up their own recurring appointments, showing dates available for the selected time slot. Clients can enter coupon codes and choose to pay later, or they can pay up-front with PayPal. Appointy displays your cancellations policy to the client along with the booking confirmation.
You can use two-way sync to link your Appointy calendar with Google Calendar.
Client Management
Appointy will maintain a basic list of your clients and their contact information, but it doesn't provide a way to import your current list. Customers can submit reviews and you can choose whether the reviews will display their name or appear anonymously.
Promotions and Reports
Like the other two services, Appointy provides a scheduling widget for your website and a link for your Facebook page. You can post updates to Facebook and Twitter, or you can send customers an email message to let them know that they can book their appointments online.
Another option is to create discount coupons and offers for clients to use when they sign up for services. There's no way to restrict how many discounted appointments clients can schedule on a given day, but you can limit coupons to a single use or a first appointment.
Price: Free basic plan; $10 per month for Plus plan (adds Google Calendar linking); $20 per month for Pro plan (adds customizations, analysis, prepayments, and recurring bookings); $40 per month for Business plan (adds separate staff logins); 14-day free trial of Business plan
Pros: Free option; prepayments; very customizable
Cons: Promotional bookings can't be restricted to a certain number per day; no client list import
Bottom Line: It's hard to beat free–but the great customization options, the capability to take prepayments via Paypal, and the various promotional tools make the paid tiers of service worth the extra expense.
Conclusion
Though any of these services will provide your clients with an easy way to book their own appointments online, each has its own unique capabilities. For businesses that like to offer deals but want to keep them under control, Schedulicity is a great match. Businesses that need the security of having a credit card on file will appreciate that Genbook has that feature built in. If you want to be able to accept deposits and to offer discounts, check out Appointy.
Overall, I rate Schedulicity as the most convenient and most robust service for businesses that don't mind tracking payments separately.