The U.S. International Trade Commission on Friday issued a final determination that Apple doesn't infringe certain HTC patents.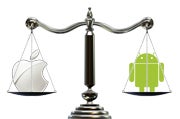 HTC can appeal the ruling to the U.S. Court of Appeals for the Federal Circuit and said it might. "We are disappointed by the Commission's ruling and look forward to reading the full opinion to understand its reasoning. We'll explore all options, including appeal," said Grace Lei, general counsel for HTC.
The ruling was made on a complaint that HTC filed with the ITC following a complaint lodged by Apple last year. HTC accused Apple of selling products that violate its patents relating to power management methods and phone number directories. (See also "Mobile Patent Wars: A Closser Look at How Everyone Loses.").
Based on the merits of the case, HTC isn't likely to be successful if it does appeal, said Florian Mueller, a patent expert, in a blog post. Mueller, who is sometimes paid for his work by companies including Microsoft, has been closely following the mobile patent wars.
HTC hasn't fared well in its disputes with Apple in front of the ITC. Late last year, the ITC found that HTC was infringing an Apple patent and issued an injunction against the importation of offending HTC products. Rather than lose sales, HTC removed technology from its phones that let users click on a phone number in an e-mail or other application to make a phone call.
Apple has appealed that decision to the Federal Circuit in hopes of widening the scope of the ruling, Mueller said.
Nancy Gohring covers mobile phones and cloud computing for The IDG News Service. Follow Nancy on Twitter at @idgnancy. Nancy's e-mail address is Nancy_Gohring@idg.com.