Apple product factories in China are opening their doors to the media and labor rights experts amid reports alleging poor working conditions at the plants.
ABC's Nightline is scheduled to air a report Tuesday after a rare behind-the-scenes look inside the factories. And earlier this week, Apple released a statement that said the Fair Labor Association would be conducting special voluntary audits of Apple's final assembly suppliers, including Foxconn factories in Shenzhen and Chengdu, China, at Apple's request.
So, what are they finding?
On Wednesday, Reuters reported that FLA president Auret van Heerden said Foxconn's facilities were "first class" and that the physical conditions were above average of the norm, especially compared to a garment factory.
He also said at the time that the worker issues at Foxconn were more about boredom and alienation as opposed to a "pressure-cooker" environment, the latter being a common problem in other factories and around the world. "You have lot of young people, coming from rural areas, away from families for the first time. They're taken from a rural into an industrial lifestyle, often quite an intense one, and that's quite a shock to these young workers," he said.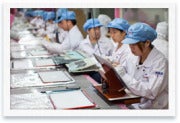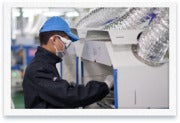 But now that a few days have passed, van Heerden is singing a different tune.
According to Bloomberg, van Heerden said the FLA has uncovered "tons of issues" that need to be addressed at Foxconn.
"I believe we're going to see some very significant announcements in the near future," he said, although he wouldn't elaborate on the findings and said the FLA would release more information in the coming weeks.
Foxconn, for its part, says it is cooperating fully with the audit and will act on all the FLA's recommendations.

According to ABC, Nightline anchor Bill Weir is the first journalist to go inside Apple's factories in Shenzhen, China, to glimpse firsthand what life is like for factory workers, "most of whom have never used an iPod, iPhone or Apple computer."
"After this trip I'll never see an Apple product the same way again," said Weir.
Follow Christina on Twitter and Google+ for even more tech news and commentary and follow Today@PCWorld on Twitter, too.