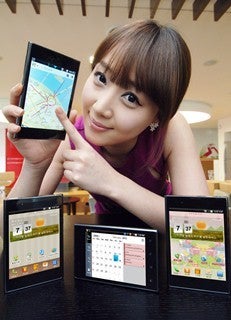 LG introduced today today the Optimus Vu, a combo tablet-smartphone LTE device with a 5-inch display to support easier multimedia viewing and ebook reading.
The Optimus Vu will be on display at the Mobile World Congress next week and will be introduced in Korea in March, LG representatives say; no global availability or pricing was disclosed.
The phone measures 5.5 inches (139.6 mm) long and 3.5 (90.4 mm) inches wide. Although its sports a 5-inch, 1024 by 768 pixel display, it measures only 08.5 mm thick, slim among existing LTE phones.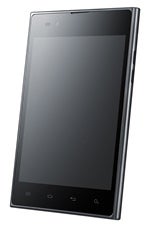 The device runs on a 1.5GHz Dual-Core processor and comes with 32GB of internal memory and 1GB of DDR2 memory; it has an 8-megapixel rear-facing camera and 1.3 megapixel front-facing camera. The Optimus Vu will ship first with Android 2.3 Gingerbread, but LG plans to update it soon to Android 4.0 Ice Cream Sandwich.
It's approximately the same size as so-called "phablet" Samsung Galaxy Note, which measures 5.78 by 3.27 by 0.38 inches. That device, introduced earlier this month, costs $300 with two-year contract
LG touts the device's bright 4:3 aspect ratio and IPS display, which is intended to make it easier to view documents, books, Internet sites and multimedia content.