Your mobile phone number isn't supposed to be used by telemarketers, but as we all know, it happens. What's more, if you have a number that used to belong to someone else, you might end up getting a bunch of calls you don't want. Heck, maybe you're getting harrassed by an ex-employee.
If you have an Android phone, help is at hand in the form of WhoAreYou, a free app that provides visual Caller ID and blocks unwanted calls.
When a call comes in, the app quickly and automatically polls a reverse-lookup database of over 200 million numbers. It then pops up a window with a name (if available), number, and even the city/state of the person who's calling.
As always, you can answer the call or send it straight to voicemail, but WhoAreYou also gives you the option of "ditching" the call. That's the app's terminology for "blocking," and all future calls from that number will get immediately routed to voicemail. (The app maintains a blacklist of ditched callers, and you can easily "unditch" by tapping and holding the number.)
There's one other function offered by WhoAreYou, and that's reverse number lookup: you can manually enter a phone number and the app will return whatever information it has (same as on the WhoAreYou Web site). If you want, you can add/update your own info to improve the results when you call others.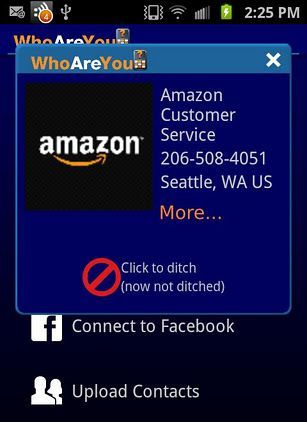 In my quick tests, the app worked as advertised. The caller ID info poppped up the moment the phone rang, with no discernible delay. And blocked callers were indeed blocked from getting through.
Visually, WhoAreYou is a little weak, not there's much in the way of an interface to complain about. But if you're looking for an easy way to identify and/or block callers, this free app is pretty hard to beat.