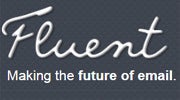 Fluent, a new Web-based e-mail client created by three former Google engineers, turns your inbox into a Facebook-like stream that lets you view conversation threads, attachments and mail from multiple accounts at a glance.
Fluent works with your existing Gmail account (including Google Apps accounts), but there are plans to expand it to other webmail services at a later date. Fluent is currently in a closed beta period, but the company is adding new users every day. You can sign up for an invite on the service's front page.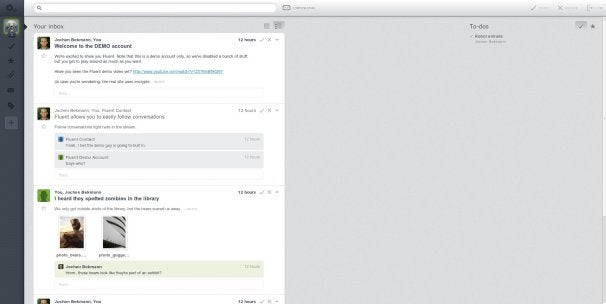 Fluent joins a long line of other e-mail services that try to bring a social networking feel to e-mail. Google in May added a new people widget that includes contact details, recent e-mails, shared documents, and calendar events for all your e-mail contacts. There are also services such as Xobni for Outlook and Gmail, and Rapportive, which was recently acquired by LinkedIn, that also bring personal profiles into your e-mail.
Fluent's approach is slightly different since it appears to be more interested in bringing a social networking sensibility to how you view e-mail messages rather than stuffing your window full of personal details from your contacts.
I am still waiting for my invite, so I can't say for sure how well Fluent works in the real world. But I did take some time to try out the demo version, and it looks like an intriguing way to rethink your inbox. Here's a quick look at Fluent.
Clean interface
Fluent has a clean, basic interface. You have a main column for your inbox that is very similar to social networking streams in Facebook and Twitter. At the top of the stream is a search box. To the left is a single column where you can move between multiple e-mail accounts, view a to-do list, view starred items, view recent attachments, view all mail (for an individual account), and show or hide your e-mail labels. To the right of your e-mail stream you have a column where you can switch between your to-do list or your bookmarked messages.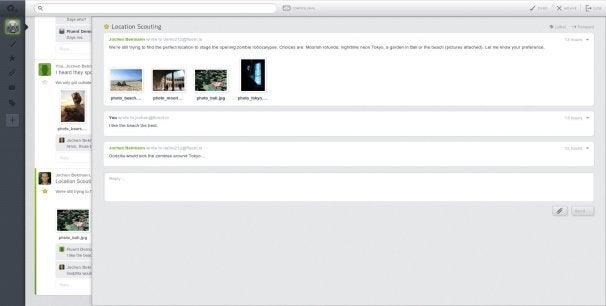 Each e-mail appears in a separate frame similar to how Facebook displays news stories. The top of each message shows the sender (including an avatar if available), the subject line of the e-mail, and then a snippet from the message. Clicking on the "more" link inside a message expands it into a near full-screen view where you can add or remove recipients and edit the subject line. If you don't like Fluent's social networking-inspired stream there is also a more traditional compact view that shows only the sender and subject line.
Fluent's e-mail settings include all the basics you would expect including an in-line reply window, one-click icons to mark a message as a favorite or archive it. There is a drop-down menu to add labels, forward a message, mark as unread or mark as spam. Fluent also has a one-click check mark icon to turn an e-mail into a to-do item. Fluent also has a slideshow format for all your inbox images that is viewable by message or you can view all your recent image attachments.
Fluent is pretty basic right now, but the company says it has more features planned for the future such as collaborative notes, file sharing, image manipulation and improved task management.
Once you get an invite, Fluent is free to try for now, but it's not clear whether it will always be that way. The Sydney Morning Herald, which first reported on Fluent, said the company may charge for its service in the future.
Connect with Ian Paul (@ianpaul) on Twitter and Google+, and with Today@PCWorld on Twitter for the latest tech news and analysis.