Barnes & Noble has released a $199 Nook Tablet with 8 GB of storage to better compete with Amazon's Kindle Fire.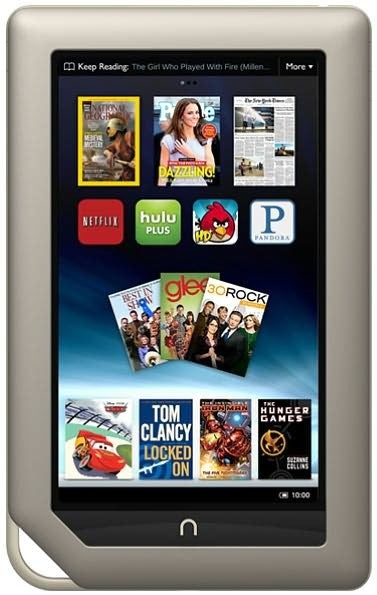 The new model has the same dual-core, 1 GHz processor as the 16 GB Nook Tablet, which still sells for $249. However, the 8 GB model has half the RAM, at 512 MB. Both models have a microSD card slot for up to 32 GB in expanded storage.
The good news is that Barnes & Noble is allowing users to store more content from outside the Nook Store on the device's internal storage. Out of 8 GB, only 1 GB is reserved for Nook Store content, and 4 GB is available for other content, such as movies and music. (The operating system gobbles up the rest.)
When the original 16 GB Nook Tablet launched in November, Barnes & Noble took flack for its fine print, which said that only 1 GB was allowed for outside content. That restriction still applies for the 16 GB model, but the fine print now says that users can visit a Barnes & Noble store on or after March 12 to reconfigure the internal memory. It's not yet clear how much space users will be able to free up for outside content.
Barnes & Noble's Nook Tablet and Amazon's Kindle Fire launched around the same time last year. Although both devices are low-cost, 7-inch Android-based tablets with simplified software, the Kindle Fire seems to be winning the war. A recent report by iSuppli put Amazon in second place in the tablet market behind Apple, while Barnes & Noble placed fourth, trailing Samsung. Neither Amazon nor Barnes & Noble has released official sales figures.
Despite the sales differences, PCWorld reviewer Melissa Perenson favored the Nook Tablet, calling it a worthy alternative to the Kindle Fire.
In light of the new model, Barnes & Noble also dropped the price of its Nook Color tablet to $169. The device looks similar to the Nook Tablet, but has a single-core 800 MHz processor.
Follow Jared on Twitter, Facebook or Google+ for even more tech news and commentary.