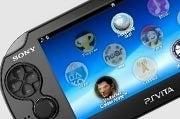 The PlayStation Vita launches Wednesday in the U.S. and Europe with Sony's biggest sales event in recent memory — parties with celebrities, midnight store openings and a $50 million sales campaign.
But the company says it is taking the long view for its newest handheld game console .
The paperback-sized Vita packs impressive hardware, including a bright five-inch OLED screen, front and rear touch control, and a four-core processor. More important, it also has a custom-built OS.
Sony's incoming CEO, Kazuo Hirai, who will officially take his post in April, refers to the gaming device as a platform, because Sony has complete control of both hardware and software, unlike its Windows-driven PCs or Android-powered phones and tablets. So while getting the hardware right is important, he feels success will be measured on a bigger scale, because major revamps will be scarce.
"The PlayStation lifecycle is very long, around 10 years," Hirai said at a press conference in Tokyo earlier this month. "Once you've announced and released a new PlayStation, if it doesn't do well, it's not like you can tell customers 'We're sorry, we're going to launch another platform.'"
PlayStation Portable, the Vita's predecessor, which launched in 2004 and passed 70 million units last year, is still a major seller worldwide.
In Asia, where the Vita went on sale from Dec. 17, it has had a quiet start. Pre-orders in Japan sold out quickly, but after its launch the pace of sales dropped. On Jan. 10 the company said it had sold 500,000 units in Japan, Hong Kong and Taiwan, and since then it has managed just over 10,000 a week in Japan, according to market research firms. Hirai and other executives have said they are happy with the pace of sales.
"The company is saying sales are going according to plan," said Keita Wakabayashi, an analyst at Mito Securities in Tokyo. "I don't think you'll suddenly see any surprising sales numbers … the most important thing from now is what kind of software comes out for the device."
The Vita launched with 26 software titles, a much stronger showing than the rival 3DS handheld from Nintendo that launched early last year. The 3DS started briskly as well, then sales flatlined and the company was forced to slash prices less than six months after launch, pushing out a barrage of software titles to revive interest.
Some point out that Sony may be sending a mixed message with the Vita.
Unlike Nintendo, whose 3DS advertisements have featured female models and children laughing over its cute graphics, Sony is launching in the U.S. with the slogan "Never Stop Playing," meant to show that dedicated users of its PlayStation 3 home console can now continue gaming on the move.
But Sony has also released software for the Vita that appeals to more general users, such as Skype software, mapping and video recording. That seems to put the device in competition with the exploding smartphone market, but without the broad developer communities that crank out apps for Apple's iOS and Google's Android.
"This product embodies the confusion within Sony as a whole," Kiyoshi Shin, a game commentator, blogged Tuesday on the prominent Famitsu website.
"The confusion needs to be resolved. The product's definition itself has no real meaning — it can be interpreted to be aimed at games, or network services, or videos."
Sony hopes to use its growing network services, which include online gaming, music and video, to keep consumers within its ecosystem of devices.
The launch is unfolding as Sony struggles to climb back to profitability under Hirai. Dragged down by its ailing TV business and a host of large expenses from business reforms, last year's earthquake and flooding in Thailand, the company says it will lose nearly $3 billion in the current fiscal year through March.
Still, Sony's PlayStation business has been a strength in recent years, even as the rest of the company has struggled. The Vita is named after the word "life" in Latin.