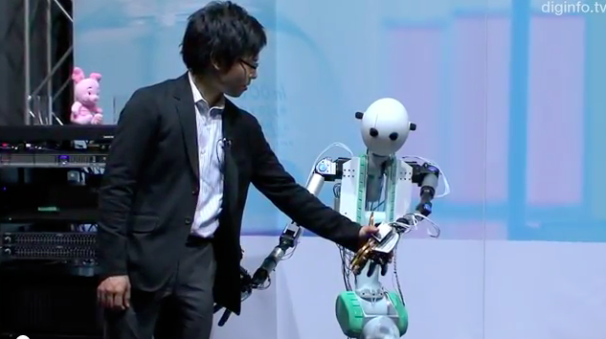 Some Mondays (well, Tuesdays, in this case), you just don't want to get up, get ready and go into the office. You know that days; you didn't sleep well, the water heater broke, you're up late, or whatever. It throws your entire day off to rush around in those situations. But maybe those days are numbered, thanks to a new robot prototype from Keio University.
It's called the Telesar V, and it looks awesome. The remote-control is so precise that it can pick up and manipulate objects, and the bot has some very sophisticated sensors that allow it to detect the temperature of objects and texture via touch, which it can relay to its controller. The user can see through the robots eyes and the avatar is built to be as realistic as possible, allowing a huge range of human movement mimicry.
It's controlled through a virtual reality suit–3D helmet and all. While the controls look inconvenient and clunky now, this is an awesome foreshadowing for what's to come. Not wanting to go to work aside, the application of a sensory-laden telepresence robot in a dangerous area is something that's been in the works for years. One of these robots could do wonders at a location like Fukishima, where the radiation level is too high for humans to get near. Doctors could use this robot to perform remote surgery, assuming the Internet connection is fast enough to allow close to real-time telepresence.
The Telesar V can move in seven different directions, and it has joints just like humans do. Coolest of all, the sensors on the Telesar's hands are sensitive enough (and high-tech enough!) to relay texture at a level advanced enough to determine a smooth surface or something bumpy like a LEGO. You can check out a video of the robot; you won't be able to deny its awesomeness.
[DigInfo (YouTube) and Daily Mail via Inhabitat]
Like this? You might also enjoy…
Get more GeekTech: Twitter – Facebook – RSS | Tip us off