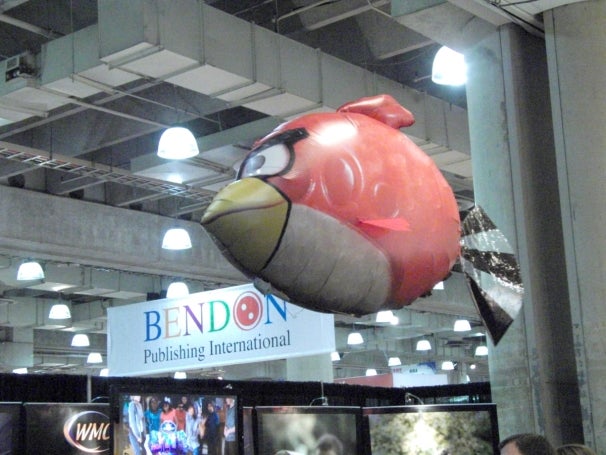 No, it wasn't the black bomb bird or the one that poops explosive charges, but the sight of a red Angry Bird patrolling the skies at last week's Toy Fair 2012 was jarring just the same, even as it generated smiles by the dozen.
William Mark Corp., which markets a line of remote-controlled, helium-filled Air Swimmer flying toys, recently acquired a license to create flying Angry Birds characters like the red one that flew above the company's booth at the Toy Fair. Current Air Swimmers are fish like sharks or colorful clownfish.
The inflatable toys are fairly large–one is 57 inches long, 36 inches wide and 24 inches tall. They can be controlled from a range of up to 40 feet. The Air Swimmers are weight-balanced, which allows them to hold their positions in the air when not being propelled by a small rotor. They're also silent, which allowed the mischievous product demonstrators at the William Mark booth to have them stealthily sneak up on passersby, including unsuspecting bloggers.
While pricing Angry Birds Air Swimmers wasn't available, the shark and clownfish Air Swimmers list for $40 but often sell for considerably less.
Robert S. Anthony is a New York-based technology journalist. He writes a tech blog called The Paper PC.
Like this? You might also enjoy…
Get more GeekTech: Twitter – Facebook – RSS | Tip us off