The Yahoo-owned photo sharing site Flickr is about to get a makeover, with new interfaces for viewing and uploading photos.
Flickr's head of product, Markus Spiering, gave BetaBeat a sneak preview of the changes, which will roll out starting next week.
One of the changes is a redesigned photo view, taking a page from the staggered layout of Google+. By cutting down on white space, Flickr will be able to show more photos on a page, while hiding most of the details until the user rolls over a photo with a cursor.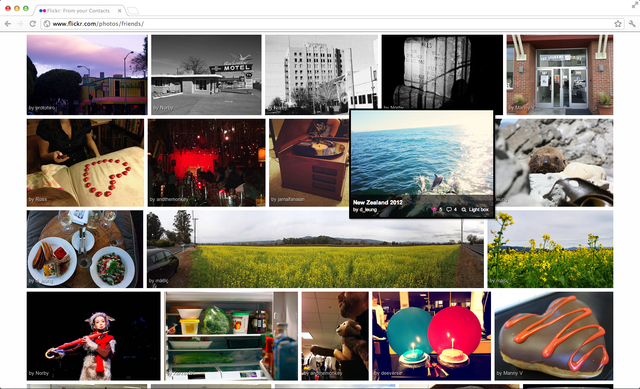 Flickr's photo uploader will also get a much-needed overhaul, with support for drag-and-drop uploads directly from the browser. Users will also have a single view for editing entire batches of photos at a time.
Flickr has taken some heat over the last year for stagnating in the face of competition, not only from Google+ and Facebook, but from mobile competitors such as Instagram. In a scathing blog post last August, photographer Thomas Hawk wrote that Flickr had "lost the soul of photosharing."
A redesign may help let Flickr users know that the site is still alive, but as Spierling told BetaBeat, don't expect a big "New Flickr" campaign. The new photo viewer and upload page are just a couple of the big changes Flickr will make throughout 2012.
Follow Jared on Twitter, Facebook or Google+ for even more tech news and commentary.