PCWorld's Damon Brown says yesterday's Office for iPad tease by The Daily is probably just hype, and he's in good company — Microsoft itself said in a recent New York Times story that the purported screenshot was bunkum. But The Daily's tech editor, Peter Ha, has fired back on Twitter, claiming the screenshot's the real deal.
"For the record: the image that accompanies our Office for iPad story is not fake," wrote Ha on Twitter, proceeding to launch a barrage of rebuttals aimed at naysayers, and pointedly, Microsoft. The image he's referring to is of what appears to be an Office for iPad app, a snap someone took of what looks like an iPad framed by a protective sleeve serving up Microsoft's Office logo and four center-screen buttons, under which the words "new document" are legible. At the bottom: a yellow menubar with search field and a couple icons, one of which looks like a "settings" cog.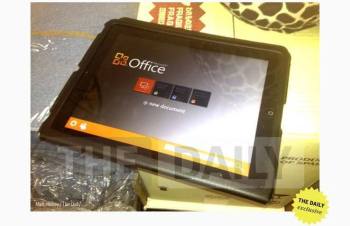 Microsoft's reaction to the story was swift and meant to sound unequivocal: "The Daily story is based on inaccurate rumors and speculation. We have no further comment," a Microsoft spokesperson told the New York Times, though she went on to claim The Daily's image was "not Microsoft's software." A colleague of mine pointed out the potential semantic ambiguousness of that claim — "not Microsoft software," but when has Microsoft ever referred to prerelease code as "Microsoft software" anyway?
The Daily's Ha continued batting at the company on Twitter. "This image also ran with the story… Want to dispute this one too, @microsoft?" wrote Ha at one point, goading Microsoft directly, later adding "If @Microsoft is pissed about what we published today on @Office for iPad, they likely won't be happy with our follow up."
What followup? Ha wrote "Today was fun. Let's do it again tomorrow!"
And so The Daily has. Sort of.
In a just-published story titled "Bad Day at the Office," the self-styled news site again claims it made nothing up, images or otherwise, and that the Office for iPad app was demoed by a Microsoft employee who "repeatedly told [the site] that it wasn't the final build," ergo the bit of semantic Microsoft PR parsing.
What's more, says The Daily, a second Microsoft source "much closer to the project" has repeatedly confirmed the app's existence in recent months. The only bit of new app-related info involves the red tile in the image, which The Daily says "looks oddly familiar to the icon for Windows remote desktop connection, [and] may allow users to access documents stored in Microsoft's SkyDrive service."
Much ado about something? Depends how excited you are about an Office for iPad app, or how much you care about the backroom he-said, she-said tittle-tattle that often transpires between writers, sources, and PR flack, I suppose.
Matt Peckham writes for TIME and PCWorld. You can find him on Twitter, Facebook, or Google+.