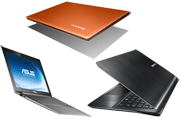 The price of slim, lightweight Ultrabook laptops may dip to just $600 this year, thanks to manufacturers that are switching from solely solid state drives to hybrid disk drives to cut costs.
Most of the Ultrabooks introduced so far, including the Asus Zenbook UX31, HP Folio 13, Toshiba Portege Z835, and Lenovo IdeaPad U300s, feature solid state drives–which are faster than traditional hard disk drives but much more expensive to produce and one of the main reasons why most Ultrabooks are priced at around $1000 or more.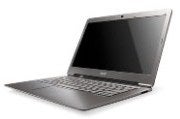 Ultrabooks with hybrid hard drives–a combination of small capacity solid state drives for the operating system and a larger traditional hard drive for everything else–may offer us the best of both worlds. The Acer Aspire S3 is an early example of an Ultrabook with such a drive. At $899, it offers decent storage for the price: a 20GB SSD and a 320GB HDD. Compare this with the $1099 Asus Zenbook UX31, which comes with a 128GB SSD.
Pros and Cons
There are tradeoffs and advantages to both types of drives. A hybrid hard drive's solid state disk serves as a second cache to speed up the hard disk and makes booting faster than a traditional drive. Its biggest benefit over an SSD is the lower price.
However, hybrid drives can't match SSDs on performance. A Computerworld test of the Seagate Momentus XT, for example, found the hybrid drive didn't match SSDs on read speed or most SSDs on write performance, although it was faster than traditional HDDs and even some SSDs on write performance.
SSDs, while they may cost more than 50% more for manufacturers to make, are just much faster all around. In PCWorld Labs performance tests, an OCZ Summit Series SSD took 86 seconds to boot, compared with 110 seconds for the Momentus XT hybrid, 26.7 seconds to read files versus the hybrid's 40.4 seconds, and 25.2 seconds to write files compared to 44.6 seconds.
The tradeoff for SSDs, besides the price premium, is a much smaller capacity. Typical SSD sizes range from 64GB to 256GB.
Hybrid drives, on the other hand, offer performance and value, which will bring cost savings for laptop buyers. DigiTimes reports that more Ultrabooks with hybrid HDDs are coming this year, and, according to Acer president Jim Wong, will be priced between $600 and $700 in the fourth quarter this year.
Follow Melanie Pinola (@melaniepinola) and Today@PCWorld on Twitter