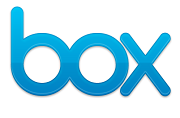 For the next month, Box is offering 50 GB of free online storage for Android users, with no strings attached.
To get the free storage, just log in to the Box app for Android, and you'll be upgraded automatically. The offer is valid until March 23, and provides an extra 45 GB over Box's existing free plan for the lifetime of your account.
But don't abandon your Dropbox or SkyDrive accounts just yet. Unlike those competing online storage services, Box doesn't offer a free desktop sync tool, so users can't automatically back up their local files online. Box's desktop app is only available for professional accounts, which cost $15 per month.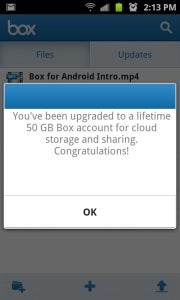 Another catch: unpaid users are still restricted to the lowest file size limit of 25 MB per file. Users can upgrade to a 1 GB file size limit for $10 per month.
Still, it's hard to complain about 50 GB of free storage. And Box does have one big advantage over its competitors, in how it works with third-party apps and services. For example, Box apps allow users to send files to Gmail, load them in Microsoft Office, add them to blogs or view them in Google Docs. Those tools help lessen the blow of not having a desktop app for sending and retrieving online files.
On Box's Android Market page, some users have raised a concern that the app now asks to read contact data. One Box developer responded, saying the permission was added for a new "Invite a Collaborator" feature, which can grab e-mail addresses from users' address books. Box says it doesn't look at address books for any other purpose, nor does it upload contact info to its servers unless the user invites those contacts to Box.
Follow Jared on Twitter, Facebook or Google+ for even more tech news and commentary.