When Montreal residents Shoshana and her husband Dez visited the New York City area in 2008 and lost a tiny 512MB SD card from their Canon PowerShot camera, they were heartbroken. Some 140 photo memories were gone in an instant. Little did they know that 3 years later, thanks to a determined network of good Samaritans and a few freaky coincidences, their vacation shots were saved from the abyss.
Shoshana and Dez's good fortune can be credited to a growing number of websites that use crowd-sourcing, not GPS or other tech-based tracking technologies, to recover lost cameras and tech gear. Websites such as ifoundyourcamera.net, stolencamerafinder.com, and camerafound.com offer a glimmer of hope for those who have lost their camera gear or had it stolen. Though these sites can, to date, offer only a relatively few recovery stories, they make up for that with amazing tales of tech lost and the improbable against-all-odds reunification of cameras with their owners.
(Jump to the bottom of this article for an overview of lost-camera websites.)
Long Journey Home
Shoshana's story begins when the couple was road-tripping throughout the Hudson Valley in early October 2008, with stops in places like Mountainville, New York, and a visit to New York City. It would be their second year of marriage, but the first time the two celebrated an anniversary with a big adventure. Everything was picture-perfect about their trip until they made it to New York. Here is where the couple lost the SD card for their Canon PowerShot camera.
"I would have rather lost my camera than the photos," Shoshana says. "They weren't amazingly 'wow' shots, but they recorded important memories." (Shoshana and Dez asked that their last names be withheld, citing privacy concerns.)
As Shoshana recalls, she lost the SD card somewhere in New York City when she swapped out the full card with an empty one. "Half our trip was lost through the photos," says Shoshana, "I couldn't shake that feeling" that the images were gone for good.
The photos ranged from a shot of a beautiful field at the Storm King Art Center in Mountainville, to a simple vase full of roses in Warwick, to the couple rowing in a pond in Central Park.
Once back home in Montreal, desperate to try anything to get their pictures returned, Shoshana posted an ad on Craigslist's Lost and Found section in New York City. "We didn't know what else to do." The ad yielded no response.
Plot Thickens
What they didn't know was that two days before they left New York City a woman named Kelly Sullivan who was working as a gallery attendant at the Museum of Modern Art spotted an SD card lying on a third-floor hallway outside of MOMA's Vincent van Gogh exhibit. "It was really hectic and crazy [at that time] because of the exhibit's popularity. I almost missed it; but I didn't," Sullivan says.
She turned in the SD card to the museum's Lost and Found. After it remained unclaimed for some time, Sullivan took the card home.
"I thought, either I've gained a new SD card, or maybe I can track down its owner," she explains. On December 10, 2008, Sullivan decided to email a few of the images to ifoundyourcamera.net, a website she had heard about.
Fast-Forward Three Years
Three years later, on November 28, 2011, Nicole Backs, a culinary arts student at Camosun College in Victoria, Canada, was killing time on Facebook on a Sunday afternoon, when she came across an interesting story about a DSLR camera that had washed ashore in Deep Bay, British Columbia, and was found by a local diver. With some Google+ sleuthing, the camera's owner, a firefighter from British Columbia, was located.
In the story's comments, Backs found a link to a site that featured photos belonging to lost-and-found cameras from all over the world: ifoundyourcamera.net. Intrigued by this site, Backs scrolled through 64 pages of photos of strangers. On the 65th page she halted–a woman on a rowboat caught her eye. She looked familiar.
"Holy s*%#, I think I know this woman," Backs recalls saying to herself. She was so dumbstruck that she dropped her laptop walking into the living room to tell her roommates. "What were the odds?"
The woman in the photo looked like a friend of Backs' mother. Backs called her mother in Vancouver, and this led to a confirmation that it was a friend–Shoshana. "My mind was officially blown," Backs says.
Shoshana contacted ifoundyourcamera.net, which relayed her information to the finder in New York City, Kelly Sullivan, in early December 2011. Sullivan mailed the SD card to Shoshana soon after.
Websites That Help Find Your Camera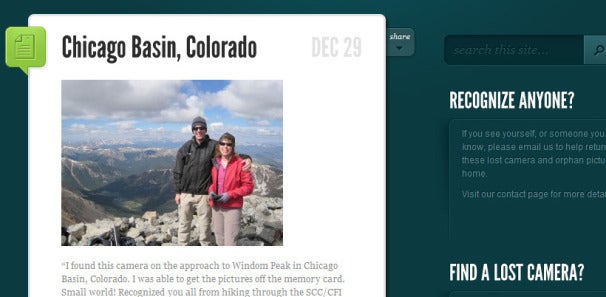 IFoundYourCamera.net
The site ifoundyourcamera.net was set up by 24-year-old journalist Matt Preprost. He has been uploading photos from lost cameras onto his site since February 2008. Although he believes not all successes are reported, he knows his site has reunited 50 people with either their lost images or their cameras. A whopping 500 are still waiting to be claimed.
The way the site works is quite simple. You submit images from a lost camera or SD card, and ifoundyourcamera.net posts the images to the site. Next, people desperate to find their photos typically stumble on the website.
Preprost says that if your camera has been lost or stolen, it would be to your advantage to search as many sites as possible. Try scouring some of the websites mentioned below, but keep in mind that, as Shoshana's story illustrates, success is often due to the powers of chance.
StolenCameraFinder.com
I recommend the site stolencamerafinder.com, which reads the EXIF metadata (camera make, model, and serial number, and photo date) embedded in the photos you've taken with your digital camera. You either drag a saved photo or input your photo's serial number, and it searches the Web for photos bearing that same serial number. Not all cameras have serial numbers, but you can find supported (serial-number-bearing) camera models here. Unfortunately, the service can't crawl from sites that alter the EXIF data of photos–sites such as Facebook and MySpace.
CameraFound.com
It's also worth registering with and looking through camerafound.com. This website features lost and found postings using a Google Maps platform. The exact locations of cameras are indicated by colored dots on the map.
Flickr Lost and Found
Similar to ifoundyourcamera.net, it's worth browsing Flickr's Lost and Found Cameras and Photos group, which has a compilation of photos uploaded from found cameras.