Apple has been forced to turn off its iCloud and MobileMe push e-mail services for users in Germany to comply with an injunction in a patent lawsuit brought by Motorola Mobility.
Users of iOS devices in Germany will still receive e-mail, but only when they open the Mail app, or when the app is set to check for e-mail.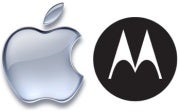 The iPad and iPhone can usually be set to check for new mail at set intervals, or to wait until mail is pushed out to the device. The latter option will no longer be available to users of Apple's e-mail services on iOS devices in Germany, although Macintosh computers, and iOS e-mail services such as Microsoft Exchange ActiveSync, will still work, Apple said in a support note.
Apple believes Motorola Mobility's patent is invalid and is appealing the decision, it said in the note.
Google is in the process of buying Motorola Mobility, attracted primarily by the company's extensive portfolio of patents, which have become increasingly important of late as Apple and Google push their respective mobile OSes, iOS, and Android, in a market dominated by companies such as Samsung Electronics and Nokia, which have a longer history of making mobile phones.
Apple advised MobileMe and iCloud users in Germany to reconfigure their iPhone, iPad, or iPod Touch to pull new e-mail to their device rather than waiting for it to be pushed.
Users of the iCloud service will continue to have new contact and calendar information pushed to their device from their iCloud account, and e-mail too will be pushed as soon as the user moves outside Germany, Apple said.
For users of the MobileMe service, however, the block on push updates will also affect contacts and calendars — and once they have checked their MobileMe mail from inside Germany, then push updates will be disabled indefinitely, even after they leave Germany, Apple said. The only ways around this are to convert the MobileMe account into an iCloud account, or not check MobileMe mail while in Germany, the company said.
Push e-mail is the latest victim in an ongoing patent squabble between Apple and Motorola Mobility, which has also forced Apple to temporarily withdraw some products from sale in Germany, and prompted it to file a complaint with the European Commission about Motorola Mobility's assertion of so-called standards-essential patents.
However, the patent at issue in this case is unrelated to modern mobile phone standards: It dates back to the era of pagers, according to patent watcher Florian Mueller. "This is the first time that Apple's customers (in one particular country) start to see and feel the effects of the ongoing patent disputes in the smartphone and tablet computer industry in the form of a (temporary) removal of certain functionality," he wrote in a blog post.
Peter Sayer covers open source software, European intellectual property legislation and general technology breaking news for IDG News Service. Send comments and news tips to Peter at peter_sayer@idg.com.