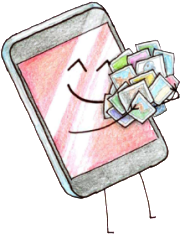 Dropbox wants to be your online photo repository with a new feature that automatically uploads full-size copies of your snaps to Dropbox whether you're on a Mac or Windows PC, Android phone, or (coming soon) an iOS device.
The new upload feature is available in the latest version of Dropbox in the Android Market and the desktop apps for Mac and PC. Dropbox is also offering up to 3GB of extra storage space for your automatic photo uploads so you don't have to worry about maxing out your Dropbox allowance with pics. Your extra 3GB will be doled out in 500MB increments as required and your uploaded photos will be automatically sent to a new folder called "Camera Uploads."
If you're on a Mac or Windows PC, the latest versions of Dropbox's desktop app will automatically upload photos for you whether they're coming from a connected camera, smartphone, or tablet sync, or your SD card slot. There's no word on when this feature is coming to Linux, and Dropbox warns the company is still working out the bugs on the new desktop apps. The company began beta testing the new desktop apps earlier in February.
Once you've enabled Dropbox's new photo uploads feature, you will also get a sneak peek at the new look for the Dropbox website. The visual upgrade is a much cleaner, simplified interface featuring larger icons.
Auto Upload On Android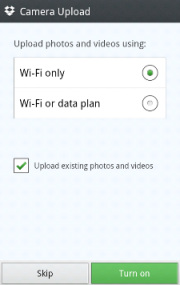 The first time you fire up the Android Dropbox app after upgrading, you will be asked whether you want to set up automatic photo uploads. By default, Dropbox will only upload photos automatically over Wi-Fi, but you can also choose to upload over your data connection as well.
Dropbox also defaults to uploading all the photos on your camera, but there's a simple checkbox if you want to start fresh and keep your older pics on your smartphone.
One word of warning for Android users: Dropbox now has to be installed on your phone's onboard storage; you can no longer stick it on your expandable SD card. Dropbox says this is necessary because the phone provides a more secure form of credential storage. In my tests, users with rooted devices can just switch the app back to the SD card and Dropbox will continue to work.
Google's Instant Upload and Apple's iCloud
Some Android users may not want to bother automatically uploading to Dropbox since Google has offered a similar feature via Google+ called Instant Upload. But Instant Upload restricts the size of your photos to 2048 pixels at their widest edge, while Dropbox won't restrict the size of your images at all.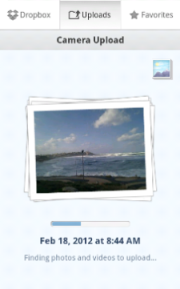 Dropbox's new feature isn't available yet for iOS devices. But this could be a welcome feature for iPhone users with Windows PCs who haven't yet enabled Apple's iCloud Photo Stream feature. Similar to the new Dropbox feature, Photo Stream automatically syncs your photos across all your devices, but you must download the iCloud Control Panel from Apple to get it working. If you already have Dropbox installed on your PC, then you need only wait iOS to get the new feature to sync your mobile photos on your desktop. Similar to Google, Apple restricts the size of Photo Stream photos on iOS devices up to 2048 by 1536 pixels, but Macs and PCs will download and store Photo Stream photos at their full resolution.
Photo uploads are an interesting move from Dropbox and signals that the company wants to add more value to its service as larger tech companies encroach on its territory. Apple recently launched iCloud, which offers iOS users the ability to sync files and images across multiple devices. And Google is reportedly getting set to launch its own Dropbox-like service, even though it already offers online storage of files through Google Docs and photos via Picasa and Google+.
Perhaps automatic photo uploads are just the first of many handy new features we'll see from Dropbox in 2012.
Connect with Ian Paul (@ianpaul) on Twitter and Google+, and with Today@PCWorld on Twitter for the latest tech news and analysis.