Nokia shipped 900,000 Windows Phones during the fourth quarter, which was enough to become the world's number one Microsoft smartphone vendor, market research company Strategy Analytics said on Friday.
Microsoft's smartphone shipments remain tiny, but they are showing tentative signs of growth, according to Strategy Analytics. Global smartphone shipments using Windows Phone grew 36 percent sequentially to reach 2.7 million units during the last three months of 2011.
In comparison, Apple sold 37 million iPhones to become the biggest smartphone vendor in the world during the fourth quarter.
Nokia overtook HTC and others to become with the biggest Windows Phone vendor with a 33 percent market share, Alex Spektor, associate director at Strategy Analytics, said.
Nokia hasn't detailed the overall number of Windows Phone smartphones it has shipped. When reporting its quarterly figures on January 26, the company only said it had "sold well over 1 million Lumia devices to date."
The struggling phone maker is by no means out of the woods yet, but capturing top spot in the Microsoft smartphone ecosystem is an encouraging baby-step forward, according to Neil Mawston, executive director at Strategy Analytics.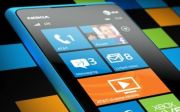 As the distribution of the Lumia smartphones ramps up, Nokia is still dependent on the sales of Symbian-based smartphones. But sales of phones based on that platform are dropping faster than expected, Nokia said when reporting its fourth-quarter numbers.
That highlights the need for Nokia to move even faster to Windows Phone, Francisco Jeronimo, research manager at IDC, said.
Next week, Nokia is in Barcelona for Mobile World Congress.
On Monday, the company is expected to launch at least one model based on Microsoft's mobile OS, possibly more, according to Mawston. It has been about one year since Nokia announced its Windows Phone push, and Mawston also wants CEO Stephen Elop to provide an update on how work is progressing on services that will help differentiate it from the competition, he said.
Send news tips and comments to mikael_ricknas@idg.com