The screen in Apple's next-generation iPad is said to be a standout feature of the tablet, and an analysis of what is purportedly one of those new screens supports the growing expectations.
Repairs website iFixit analyzed a screen obtained obtained earlier this month by MacRumors, which says the screen is that of an iPad 3, and confirms the unit has double the resolution of the iPad 2 screen.
An iPad 3 announcement is expected on March 7, and several leaks of the display indicate it will have double the resolution of the iPad 2. iFixit's analysis, available as a video, is of note because the people behind the online teardowns of most new gadgets are verifying the quality of the display. MacRumors isn't saying how it obtained the screen, but claims it is from an iPad 3.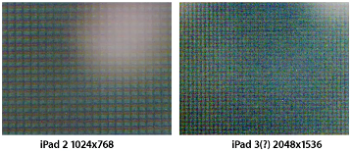 Put under the microscope, the alleged iPad 3 display has double the linear resolution of the iPad 2 — from 1024 by 768 pixels to 2048 by 1536 pixels — which is higher than full 1080p HD video resolution at 1920 by 1080 pixels, and should display much sharper images. The improvement would be similar to the difference between a 3.5-inch iPhone 3GS display and the double-resolution iPhone 4/4S screen.
If this is indeed the type of display used in the new iPad, it will be interesting to see whether Apple will use the same Retina moniker it used for the double-resolution iPhone display. As my colleague Matt Peckham points out, in Apple's book, Retina refers to displays with pixel density of more than 300 ppi (pixels per inch). At 9.7 inches and double the current resolution, an iPad 3 display would have just over 260ppi.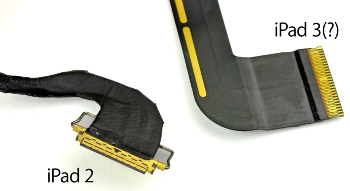 iFixit couldn't power up the screen with iPad 2 hardware, as the current iPad display uses a different connector than the one MacRumors obtained. This suggests that the new display will have different power requirements, and will hamper modders from getting a higher-resolution display with thieir older tablets. But take a look for yourself.
Follow Daniel Ionescu and Today @ PCWorld on Twitter