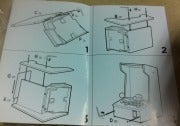 Need the instruction guide for your laptop? Unless you're one of those freakishly organized types, I'll bet you have no idea where it is. Or even if you do, it probably involves a visit to the attic or basement, digging through boxes, and so on. What a hassle.
Why not keep a digital library of your manuals instead? You could store them on your PC, your tablet, your smartphone, or anywhere else that's convenient. You could even keep them in multiple locations–say, in a PDF viewer app on your iPad and in your universally accessible Dropbox account.
Okay, but how can you find the manuals for your printer, monitor, digital camera, and other stuff? You could comb each and every manufacturer's Web site until you find the right one, but I have a better suggestion: head to Retrevo.
The site offers downloadable manuals for all kinds of electronics, from calculators and cell phones to TVs and remote controls. The only trick? Finding them.
Retrevo is primarily a shopping portal that's home to a wealth of product prices and reviews. But it also stores more than 100,000 manuals for more than 1,000 brands. When you hit the site, scroll down a bit to the User Manuals section.
Click through and you'll see a section called User Manuals for Popular Brands. Click the brand you're after, or click a letter to search alphabetically. You can also browse by category or search for a particular product (say, an iPhone). When you find the manual you want, you can download it as a PDF.
If that doesn't pan out you can try a Google search for PDFs that match your product make/model. For example, here's a search string for an iPod Touch:
ipod touch user guide filetype:pdf
Once you've amassed your electronic library of manuals, you can toss the paper versions into the circular file.
By the way, I must give credit where credit is due: This idea evolved from a Lifehacker post.
Contributing Editor Rick Broida writes about business and consumer technology. Ask for help with your PC hassles at hasslefree@pcworld.com, or try the treasure trove of helpful folks in the PC World Community Forums. Sign up to have the Hassle-Free PC newsletter e-mailed to you each week.