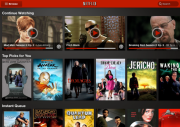 As Research in Motion tries to reinvent itself with the upcoming BlackBerry 10 operating system, the company may have to work a little harder to get popular apps such as Netflix on board.
In response to a user who asked about a possible Netflix app for the BlackBerry Playbook tablet, Netflix's Twitter support account replied that the company has no current plans to support BlackBerry devices, including the Playbook. Crackberry.com spotted the tweet, and is encouraging BlackBerry loyalists to voice their outrage.
A lack of apps continues to be RIM's biggest problem, especially now that Playbook OS 2.0 has filled in many of the tablet's missing features, such as a native e-mail, calendar, and contacts apps. Without apps for popular services such as Yelp, Spotify, Kindle, Hulu, and Netflix, RIM will have a tough time convincing consumers that its app store is thriving.
Although Playbook OS 2.0 supports Android apps through an emulator, developers must still submit their apps to RIM for approval. It's not yet clear whether Netflix or other streaming video services will go that route.
Of course, things can change, and sometimes "we don't have any current plans" is just PR speak for "we have plans that we're not announcing yet." But as it stands, Netflix's disinterest in BlackBerry isn't a good sign.
Follow Jared on Twitter, Facebook, or Google+ as well as Today @ PCWorld for even more tech news and commentary.