Selecting the right PC case is a personal decision, so the options I recommend here may not be right for you. But you should keep a few key things in mind while you're looking for a shell to house your PC's innards. The first is layout: Having a lot of ports up front will make connecting devices such as USB thumb drives easy. Also consider size and weight–a smaller chassis will fit just about anywhere, and will be convenient should you need to move it to clean any accumulated dust. But a compact case could also limit your components options, and some CPU coolers and graphics cards simply won't fit inside.
Budget
Fractal Define R3 ($120) For a budget PC, I recommend the Fractal Define R3. You can find cheaper cases, but the Define R3 is well worth the investment. At just over 17 inches tall and 8 inches wide, it's spacious, but not dauntingly so. On the face of the chassis are audio I/O ports, two USB 2.0 ports, and a USB 3.0 port–a nice touch.
The internal layout is simple: It has a pair of 5.25-inch drive bays, eight hard-drive bays, and a wide cavity that's roomy enough for all but the largest graphics cards. Only the dearth of 5.25-inch drive bays might be troublesome, particularly if you'd like to install extra optical drives or a card reader.
The design of the internal space is an important but oft-overlooked consideration when shoppers pick a case. The Define R3's interior dispenses with awkward metal bars, giving you free rein while you're tinkering. Rubber grommets help to optimize cable management, letting you snake wires out of the way; using them may increase setup time, but you'll enjoy better airflow and a neater presentation. And seven fan slots are scattered about, prefitted with a noise-dampening filter should you prefer the silent treatment.
Performance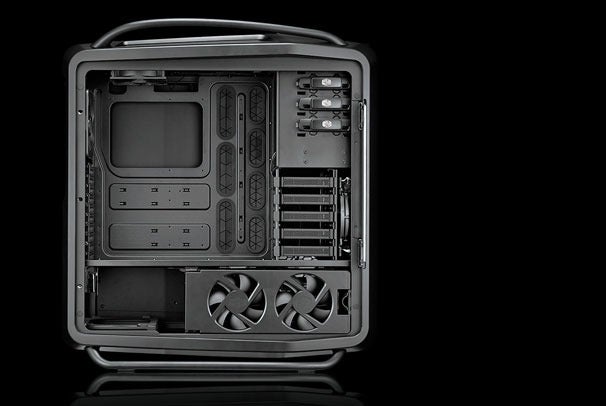 Cooler Master Cosmos II ($350) The Cooler Master Cosmos II is unquestionably big. This imposing performance-PC chassis measures just shy of 28 inches tall and 13.5 inches wide, and it weighs a hefty 48 pounds, empty. Easy access to the essential ports around your computer is instrumental on a case this massive, and the Cosmos II does its best to compensate for its girth: A panel on the front provides four USB 2.0 ports, a pair of USB 3.0 ports, an eSATA port, and audio I/O ports.
Inside the Cosmos II, you'll discover three 5.25-inch drive bays, as well as a staggering 13 3.5-inch drive bays–with this case, you will never want for storage. Two of the drives are hot-swappable, and can be locked down with keys. The Cosmos II is a bit busy inside, with fan-lined compartments dividing the chassis into sections to maximize the cooling potential. You'll still find plenty of room for the largest graphics cards and motherboards money can buy, however, with the included rubber grommets holding wires out of the way and keeping everything neat.
Next Page: Power Supplies
Power Supplies
Power supplies are tricky. If the budget for your custom-built PC is limited, you can save a pretty penny by choosing a low-voltage power supply–but in doing so you limit your upgrade options.
Budget
Enermax NAXN ENP450AST ($45) If you're assembling a budget machine, I suggest installing the Enermax NAXN ENP450AST. As the device's model number implies, this product is a 450W power supply, so it's comfortably capable of running a fairly heavy-duty system–one equipped with several hard drives as well as a lower-end graphics card.
This power supply holds a pair of 12V power rails. Most of the more substantial components inside your computer will draw power from a 12V rail; the graphics card is the most notable example. Multiple 12V power rails have become increasingly common in recent years, and having more than one in a power supply offers you a little more flexibility.
Performance
Cooler Master Silent Pro RSA00-AMBAJ3-US ($159) For a gaming-oriented PC, I like to use parts that leave a lot of room to grow. The 1000W Cooler Master Silent Pro fits that description, offering a nice balance between features and price.
I recommend this power supply for a specific reason: It's modular. Since its cables are detachable, you connect only the ones you need. That flexibility can go a long way toward preventing internal cable clutter, and it makes working inside the chassis that much easier. Even if you open the case only once or twice over the life of your PC, do yourself a favor and be sure to get a modular power supply.
Certified as 80 Plus Bronze, the Silent Pro is at least 82 percent power efficient. That means you can expect roughly 800 of the 1000 watts it draws to feed directly into your PC, so they aren't wasted. The 80 Plus certification system is designed to promote energy efficiency and conservation, and can help you keep a lid on your utility bill. Efficient power supplies are generally quieter, too, carrying large fans (like the one on this model) that circulate air while keeping the decibels low. And the Silent Pro is SLI Ready, meaning it was built with SLI and CrossFire graphics in mind and will deliver enough power to run two Nvidia or AMD graphics cards in tandem.