If ever there was a week to make plain the writing on the proverbial wall of the personal computing world, this week has been it.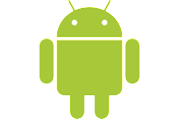 That writing, it's becoming increasingly clear, spells out the word "convergence."
First, on Tuesday, there was the news that Canonical is bringing its popular Ubuntu Linux distribution to Android phones, delivering a full desktop experience when the smartphone is docked with a monitor and keyboard.
Now, in a move that's essentially a mirror image of Canonical's announcement, it appears Google is planning to bring its Android mobile operating system onto the desktop.
'Headed for the Desktop'
That's according to Patently Apple, which recently uncovered a new patent application by Google suggesting that it may be targeting the desktop and notebook markets for its Linux-based Android.
"Android is headed for the desktop and today's report lays out Google's specific work on trackpad operations corresponding to touchscreen events," wrote Patently Apple's Jack Purcher in a Wednesday special report.
Specifically, the patent application–filed with the U.S. Patent and Trademark Office in the third quarter of last year and published this month–refers to capabilities that will allow trackpad operations to be mapped to the touchscreen events that are at the heart of touch-focused Android, permitting even computers that don't have touch capabilities to run Android and apps designed for it.
Even multitouch actions will be included, added Purcher, who also noted that several of the capabilities referred to in the filing are similar to what's now offered in some Apple trackpads.
Google and Intel are already collaborating on a project to adapt Android for x86 architectures and several other related efforts, he pointed out.
The image at right includes two figures reportedly from Google's application outlining the mapping of trackpad operations to touchscreen events.
The 'PC-Plus' Era
This is just a patent application, of course, so it remains to be seen whether any patent is actually granted or any actual products follow.
Still, it's an intriguing window into what Google is working on and planning, and it's particularly interesting given Canonical's mobile move this week.
There's little doubt left that the mobile and desktop computing worlds are converging, and operating systems are increasingly taking a multiscreen approach as a result. We've already seen a hint of that with Windows 8 and its Metro interface and now we're seeing it with both Ubuntu and Android aiming to straddle what has traditionally been the desktop-mobile divide.
Is the desktop PC going to disappear, as so many have predicted?
It sure doesn't look like it. Rather, these latest signs suggest there will continue to be a place for all these devices in our lives, along with increasingly seamless ways to move among them.
Forget the "post-PC" hype–I'm putting my money on "PC-plus" instead.