At a Glance
Expert's Rating
Pros
Thousands of add-ons make it a "Swiss Army knife"
Superb HTML 5 performance
Cons
Too many add-ons can slow down the browser
Slow page loads
Our Verdict
This browser is faster, sleeker, and easier to use in its latest incarnation.
Since its dramatic redesign in version 4.0, Firefox has undergone a few more aesthetic changes. The bulky toolbar is gone, replaced instead by a row of tabs on the top of the window, and the bookmark bar is hidden by default. Of course these can all be changed through the options, but the simplified interface works well–especially on smaller displays where space is at a premium.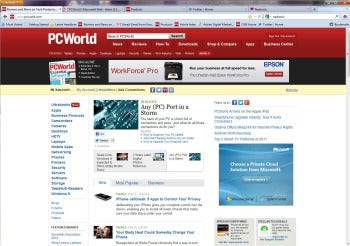 Firefox's biggest strength comes from its extensive library of add-ons. These add-ons can help you completely customize your Web browsing and make Firefox infinitely more useful. There is a downside: The more add-ons you have installed, the slower Firefox will be to start up and run. Some add-ons can turn Firefox into a memory hog, slowing down even the beefiest systems.
Firefox led the pack in our HTML5 tests. The browser came in third in handling JavaScript, but still beat out Opera, Internet Explorer 9, and Safari by a considerable amount. On our test machine, Firefox was the second slowest at loading Web pages, taking on average 9.67 seconds to fully load an image-heavy page, a lot longer than Opera, which only took 3.79 seconds to load the same Webpage.
Firefox is one of the more full-featured browsers in our 2012 browser round-up. You can save Web services you use constantly, such as Pandora and Gmail, as App tabs. App tabs are permanent tabs in Firefox that are saved in the browser. Think of them as bookmarks in tab form. If you are a power user with tons of tabs constantly open, Firefox will allow you to collect the tabs into manageable groups, a handy feature for keeping your entertainment tabs separate from your work ones, for instance. If you use Firefox at home and work, Firefox Sync will sync your history, bookmarks, and preferences across computers and will even sync with the Firefox Mobile app on Android. Firefox has a pop-up filter and supports private browsing. The browser includes malware protection that will warn you if you end up clicking on a fraudulent website, as well as an updater to ensure your plug-ins have the latest security patches. Firefox will also work with any security software you have installed on your computer, using the software to scan downloads for malware.
–Megan Geuss