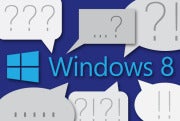 Microsoft is expected to release the Windows 8 Consumer Preview on Wednesday. The preview is essentially an open beta for users who want a sneak peek at the new operating system.
Compared to the Developer Preview that Microsoft launched last September, the Consumer Preview will be more stable. It will also have some major user interface improvements that the company has added over the past five months and will include an early version of the Windows Store.
As the name suggests, the Consumer Preview is meant for users to get acquainted with the big changes in Windows 8 before the commercial launch of the OS in the second half of 2012.
Windows 8: The Gist
With Windows 8, Microsoft is trying to reinvent the PC. Instead of the pop-up Start Menu that users have relied on since Windows 95, Windows 8 introduces a new Start screen, populated by a colorful grid of app tiles. Microsoft refers to this interface as "Metro," and it serves as the home base for anyone who's using Windows 8, whether you're on a desktop, laptop, or tablet.
To complement the new Start screen, Microsoft will launch the Windows Store, where users can purchase and install touch-friendly "Metro-style" apps. Windows 8 will also come with some Metro-style apps built in, such as Internet Explorer 10, a mail app, a calendar app, a weather app, and a photo viewer. The idea is that if you're using a touchscreen-enabled device, you could avoid the traditional Windows desktop environment entirely.
But that desktop isn't going away. Users will be able to launch the desktop from within the Metro interface, and from there, they'll have access to Windows Explorer, a desktop version of Internet Explorer, and other legacy apps. ARM-based Windows 8 devices, however, will be able to run only built-in apps from Microsoft, including a preloaded version of Office 15.
For a deeper dive into Windows 8, check out our Windows 8 overview from the Build conference last year, or my thoughts on how Windows 8 will take on Apple's iPad. Or, just look at some screenshots in Windows 8: A Close-Up Look.
What's in the Consumer Preview?
Microsoft hasn't offered many details about the Consumer Preview, except that it'll go live this month, and that some free apps will be available through the Windows Store. In blog posts, the company has mostly stuck to technical details, such as how power consumption will work. Arguably the juiciest posts were about file management, a new logo, and Windows on ARM.
Unofficial reports offer only a little more detail. Some reports claim that Microsoft is ditching the Start button on the desktop, in favor of a Start screen preview that appears when the user hovers over the bottom-left corner of the screen. The Verge has listed some games that will be available from the store during the Consumer Preview, including Angry Birds, Full House Poker, and Ms. Splosion Man.
My main question is whether Microsoft has improved multitasking with the Metro interface. In the Developer Preview, users switched between Metro-style apps by pressing Alt-Tab, or by swiping from the side of the screen. But when more than a couple of apps were open at once, the user lost control over which apps got swiped in. Hopefully, the Consumer Preview brings better app management to the Metro interface.
Preparing for the Consumer Preview
Microsoft has said that any Windows 7 machine will be able to run Windows 8. Specifically, the minimum system requirements call for a 1GHz processor, 1GB of RAM for 32-bit machines, 2GB of RAM for 64-bit machines, DirectX 9 graphics, and a screen resolution of at least 1024 by 768 pixels for Metro-style apps. To run two Metro-style apps side by side on the same screen will take a resolution of 1366 pixels by 768 pixels.
As for storage requirements and installation instructions, all of that has yet to be revealed. With the Windows 7 beta, users could install from Vista Service Pack 1 without creating a new drive partition, so perhaps the same will be true of the Windows 8 Consumer Preview. I assume users will also be able to perform a clean install or use a virtual machine, given that both options were available for the Developer Preview.
Stay tuned for more details on the Windows 8 Consumer Preview and hands-on impressions from the PCWorld staff.
Follow Jared on Twitter, Facebook or Google+ for even more tech news and commentary.

For more blogs, stories, photos, and video from the world's largest mobile show, check out PCWorld's complete coverage of Mobile World Congress 2012.

For more blogs, stories, photos, and video about Microsoft Windows 8, check out PCWorld's complete Windows 8 coverage.