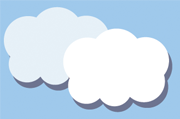 If you want to be able to access your files from any device and easily share them with others, plenty of action is coming on that front. In the last few days, Dropbox and Box both announced they're enhancing their cloud offerings and Microsoft and Apple are fanning the flames of user desire by giving sneak peeks at upcoming functions in their online storage services.
Dropbox announced a new feature that automatically uploads full-size copies of your photos to its cloud storage service whether you're on a Mac, Windows PC, or Android phone. Compatibility with iOS devices is coming soon.
In response, venture capitalist Bill Gurley wrote an effusive post on his blog calling Dropbox a "major disruption."
Join the Crowd
While it may slick to automatically upload photos and auto-sync your files to the cloud and across your devices, Dropbox is nonetheless operating in a very crowded space. What's more, what it offers to users for free — only 2GB of storage with another 3GB thrown in to accommodate photo uploads — could be considered stingy, especially considering a competitor's recent announcement.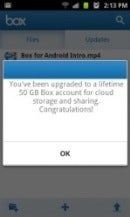 For the next month, Box is giving Android users 50GB of free online storage. While the free offering won't automatically sync files from your desktop to the cloud, 50GB is generous storage, even if you have to upload files manually.
I'd even argue that having to manually update your files — instead of having them sync every time you edit a file in the tiniest way — can be a positive for anyone who has to watch data and bandwidth usage.
For instance, I use a 4G mobile hotspot to access the Internet. It's fast and portable, but my data usage is an expensive issue that I'm constantly monitoring. For someone like me, auto sync isn't necessarily the greatest thing.
That's because automatic sync involves a lot of data transferred back and forth, depending on how many files and folders you tell a cloud service to constantly monitor.
To get Box's free storage you need to download the Box app for Android onto your smartphone and create an account. From there, you can open up Box on your desktop, upload files to the cloud, share them with others, and see them on your mobile device.
Box premium plans will auto sync your files to the cloud like Dropbox, but the Business plan will cost you $15 a month per user although if you ante up you'll also get 1000GB of storage.
The free 50GB deal Box is offering Android users is valid until March 23.
If you want 50GB through Dropbox it'll run $9.99 a month per user.
For the same price you can get 60GB of cloud storage with SugarSync, which is similar to Dropbox in that it automatically syncs your files to the cloud and across devices. I've used SugarSync and especially loved how easy it is to transfer all my files stored on the cloud to a new desktop or laptop, or to access an important file when away from the office.
But wait — your cloud options will only get better.
Meet the Cloud
While Google offers several Dropbox-like functions, such as the way you can upload, store and share documents through Google Docs, launch of Google's long-rumored GDrive is supposedly close at hand. It would let you upload and store files to its servers and be able to access them from anywhere you have an Internet connection.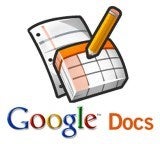 Technically you can already do that with Google docs, so how GDrive will be an improvement is unclear.
Google could converge its cloud storage services for photos, videos and files into one place. Or maybe it will copy Dropbox and put a folder on your desktop so that everything in it is automatically synced to the cloud and made available for other Google apps.
Microsoft, for its part, is expected to release the Windows 8 Consumer Preview at the Mobile World Conference in Barcelona next week. This should be interesting considering that on February 20 the company announced that Windows 8 will merge its free online storage service SkyDrive and syncing software Mesh to provide a service that looks like it will rival or beat iCloud.

And analysts recently said Apple's move to update Mac OS X for consumers this summer demonstrates the importance it places on its iCloud service. The company recently announced it is seeding developers with a preview of Mac OS X 10.8, dubbed "Mountain Lion."
Michael Gartenberg, a research director with Gartner, says Apple is making Mac OS X and iOS feel the same and that iCloud plays a central role in Mountain Lion. For example, when the OS launches, it asks for the user's iCloud credentials, and offers to create an account if the user has none.
"The net is that the personal cloud is becoming more important than the personal computer," Gartenberg says. "The whole idea of a personal cloud is what's most important to consumers. The rest is just a bunch of connected screens."
Want to learn more about how you can make the most of the cloud? Check out Tony Bradley's "30 Days With the Cloud" series.
Follow Christina on Twitter and Google+ for even more tech news and commentary and follow Today@PCWorld on Twitter, too.