Samsung Sunday announced its first phone of Mobile World Congress (MWC), the Samsung Galaxy Beam, an Android smartphone with a built-in projector. The Galaxy Beam will be available globally in the second quarter of this year. MWC, which officially starts Monday in Barcelona, Spain, is the world's largest mobile show.
Projector phones (and mobile projector accessories) have been around for some time, but they tend to be on the chunky and not-so-attractive side. The Galaxy Beam measures only 0.49 inches while packing in a 15 lumens projector. Most pico projector accessories sold today are only 10 or 12 lumens bright.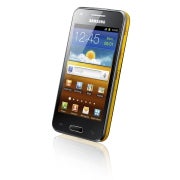 The Galaxy Beam can project video, images or PowerPoint presentations up to 50-inches wide. The resolution of projected video is 640-by-360 pixels. Samsung did a quick demo projector image quality. The image clarity was impressive: colors looked vivid and the picture looked sharp. In other demos of pico projectors I've seen, colors looked washed out, while images and text looked faded.
Here's an upclose look at the Beam:
The projector basically mirrors whatever is on your display. It uses the phone's gyroscope to correctly adjust the image from portrait to landscape mode. It, however, is not Samsung's first attempt at a phone/projector combo.
Standard Specs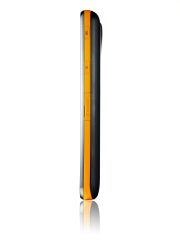 Other than the built-in projector, the Galaxy Beam's specs are pretty standard for high-end Android phones. The Beam is powered by a 1GHz dual-core processor, sports a 5-megapixel camera and has a 8GB of internal memory as well as a microSD slot. It has a 4-inch WVGA TFT LCD display. It currently runs Android 2.3 Gingerbread, but will be upgraded to Ice Cream Sandwich.
Design-wise, the Beam has a pretty unique look with a slightly curved back made from a soft, yet ruggedized material. There's a bright yellow band that wraps around the edges of the phone, which contrasts nicely with the black body.
Samsung estimates that the phone can project video for up to three hours before you need to recharge again. Samsung also informed us that there will also be accessories, such as stands, available for the Beam.
MWC 2012: Samsung Gadgets Get Larger Screens, Projectors

For more blogs, stories, photos, and video from the world's largest mobile show, check out PCWorld's complete coverage of Mobile World Congress 2012.