AT&T is appealing a California judge's ruling against the telecommunications giant over its practice of slowing the Internet speed of mobile phone customers with unlimited plans — a practice known as throttling that is gaining wider use in an industry looking to cut costs.
The company's move following Friday's ruling should come as no surprise: Half of its smartphone users — about 17 million customers — are on so-called unlimited plans. It could find itself in a legal nightmare if other customers win similar cases.
AT&T isn't alone in throttling data usage. Verizon has a form of throttling called "data optimization" that went into effect last fall. Data optimization differs from throttling, the company explains, because it's based on network traffic. So if you're a top tier user and you're near a congested data node, you may experience a slowdown, but if you're not near a congested node, your data speed could be normal.
T-Mobile also is getting into the game. It sent a legal notice this weekend to customers who are on unlimited data plans explaining that starting in April, they will no longer have unlimited data when in an area that piggybacks on another provider's network. Instead, the notice says, those customers will be limited to a certain amount of usage and will be cut off the Internet until their next billing cycle when they go over. Once they travel back into a T-Mobile service area, they will be able to get back on the Internet, but throttling will occur after a certain amount of usage. The company is allowing customers who complain to avoid early termination fees if they want to cancel their service before the changes take place.
Customers aren't happy.
When AT&T started throttling data on Matt Spaccarelli's smartphone, the California man didn't grouse about it. He took the telecom carrier to court — and won.
Spaccarelli, 39, won an $850 award against AT&T Friday in a decision handed down in a Los Angeles area court.
In making the award, Judge Russell Nadel said it wasn't fair for AT&T to throttle Spaccarelli's iPhone after he paid for an unlimited data plan, according to The Associated Press.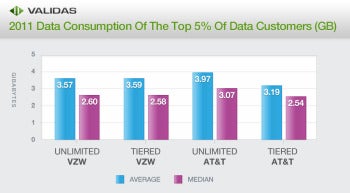 AT&T's contracts with its users bars them from consolidating their claims into a class action lawsuit. Disgruntled customers must file an individual lawsuit against the company or submit their disputes to an arbitrator.
Although some courts considered those restrictions on class action lawsuits "unconscionable," the U.S. Supreme Court approved such contract terms [PDF] last year.
Spaccarelli, an unemployed truck driver and student, noted in a tweet that he chose to argue his case in small claims court rather than take it to an arbiter in order to avoid hiring a lawyer.
Spaccarelli claimed in court that his phone is being throttled after reaching a threshold of 1.5 to 2GB of data per billing cycle. Although phone calls and text messaging is relatively unaffected by the throttling, he noted, Web browsing is excruciatingly slow and streaming video doesn't work at all.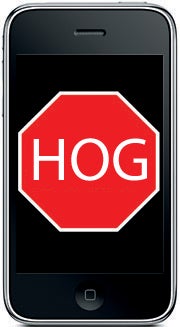 During the current run of Spaccarelli's two-year contract, which has ten months remaining, AT&T kicked him off his unlimited plan and put him in a limited one when it discovered he was using his iPhone to tether his iPad to the Internet, a violation of the terms of his unlimited data contract. After Spaccarelli complained about the change, however, AT&T restored his unlimited plan.
Judge Nadel based his award to Spaccarelli on the man's estimated data usage for the remainder of his contract, $85 a month.
AT&T announced last summer its plans to throttle smartphone users with unlimited data plans when they're in the top 5 percent of data consumers during a billing period.
Although AT&T says data throttling is necessary to keep data hogs in line, a recent study by Validas, a company that provides advice to consumers on wireless service plans, maintained that throttling is being used to push customers into tiered plans — where customers pay incremental amounts for the data they use — rather than for regulating data gluttons.
Follow freelance technology writer John P. Mello Jr. and Today@PCWorld on Twitter.