BARCELONA — After introducing what it called the world's slimmest phone at the 2012 CES in January, just one month later at Mobile World Congress here Huawei announced the Ascend D quad and quad XL phones, which the company bills as the "world's fastest." Whether these units are indeed the absolute fastest is a claim we can't vet just yet, but after getting some hands-on time, we'll confirm at least that this model feels snappy in use.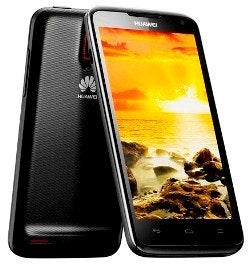 Like the Huawei P1 S introduced at CES, the Ascend D quad XL has a smooth, slightly rubberized back, and a slight bump for a grip toward the bottom back of the phone. I found the phone comfortable to hold in my small hand. It measures 8.9mm by 64mm by 129mm for the quad (the quad XL is a tad thicker, at 10.9mm); those measurements beat the 6.9mm P1 S by a shade. Not bad, given that the Ascend phones have a slightly larger display (4.5 inches to the 4.3-inch P1 S).
The display looked bright when I used it, with vivid colors — none of which was surprising given the IPS+ screen and a graphics processor that supports 32-bit color. Text looked smoothly rendered and lacked pixelation, with a better than usual 330 pixels per inch.
The D quad and D quad XL both have a 1280-by-720-pixel touchscreen. Inside, both use Huawei's K3V2 quad-core 1.2-GHz and 1.5-GHz processors, have 1GB of RAM, and 8GB of ROM memory. Like the Ascend P1, the official spec sheet makes no mention of a micoSD card, an unfortunate omission. Also unfortunate: The location of the micro-USB adapter, which was awkwardly situated at the at the upper left corner of the phone. However, performance indeed felt zippy as I moved among screens; and the handset kept up with my fast touch-typing thumbs.
The integrated Dolby Mobile 3.0 Plus produced pulsating audio. The front-facing camera is 1.3 megapixels, while the rear camera is 8 megapixels and capable of 720p video. The XL has the larger battery of the two quad-core models, 2500mAh to the D quad's 1800mAh.
The device has two other noteworthy inclusions. For one, Huawei integrates Audience's earSmart dual-microphone noise reduction technology. EarSmart separates out sounds, to identify which sounds belong to which talker, for example, to help improve the clarity of sound. For another, Huawei's micro-USB port doubles as an MHL-HDMI connector.
Both models are loaded with Android 4.0 Ice Cream Sandwich. The phones have Huawei's custom launcher, though, with icons for phone contacts, messaging, apps menu, and browser.
A third Ascend series phone, the dual-core TI OMAP4460 D1, was also announced today as well.
These models support five UMTS bands and four GSM bands, but no LTE yet. That, Huawei says, will come later this year, in the third quarter or beyond. The phones will first come out in China, then in Europe and North America.
MWC 2012: Hauwei attempts to take on the iPhone with its new smartphone launch

For more blogs, stories, photos, and video from the world's largest mobile show, check out PCWorld's complete coverage of Mobile World Congress 2012.
Note: When you purchase something after clicking links in our articles, we may earn a small commission. Read our affiliate link policy for more details.