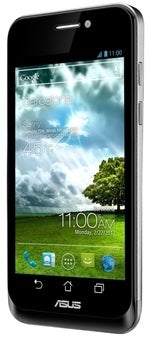 The Asus PadFone made an appearance last May, but we haven't heard much about it in the time since. Now, at the Barcelona-based Mobile World Congress, Asus has given us a few more details about its phone-tablet hybrid.
On paper, the Asus PadFone sounds very much like other phones we've been seeing at the show: A smartphone featuring a 4.3-inch Super AMOLED qHD display, a dual-core Snapdragon processor, an 8-megapixel camera, and shipping with Android Ice Cream Sandwich. Unlike other phones, however, the PadFone can be transformed into a 10.1-inch tablet by docking the device into the optional PadFone Station.
While the phone is docked, you'll be able to use the PadFone Station like a regular tablet running Android Ice Cream Sandwich. Asus has developed a technology they've dubbed "Dynamic Display", which is supposed to make the transition between smartphone and tablet as close to seamless as possible. Much like with Asus's Transformer line of tablets, you'll be able to purchase a separate keyboard dock for the PadFone Station (which would effectively mean you're docking a phone, into a tablet, onto a keyboard).
The PadFone wasn't the only news from Asus at the show, with the Transformer line of tablets adding two new models to their number: The Transformer Pad Infinity and the Transformer Pad 300.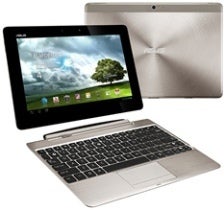 The Infinity has a 10.1-inch 1920 by 1200 Super IPS+ display and an 8-megapixel rear-facing camera with a F2.2 aperture and LED flash. There is also a front-facing 2-megapixel camera for video calls and conferencing. The 300 offers similar specs: a 10.1-inch 1280 by 800 IPS display, a 1.2-megapixel front-facing camera, and an 8-megapixel camera on the rear that is capable of shooting HD video. Both tablets will ship running Android 4.0 Ice Cream Sandwich.
Both tablets will be able to connect to LTE networks, though Wi-Fi only models will be available as well. Both the Wi-Fi and LTE versions of the Transformer Pad 300 will ship with NVIDIA's Tegra 3 quad-core processor, while the Transformer Pad Infinity will vary depending on which model you buy. The Wi-Fi only Infinity tablet will also include a Tegra 3 processor, while the LTE variant will ship with a 1.5Ghz dual-core Snapdragon S4 Krait processor. The Krait processor is supposed to be able to reach download speeds of up to 100Mbps, making it ideal for heavy web browsing and online gaming.
Like the rest of the Transformer line, you both the 300 and the Infinity can be attached to an optional keyboard dock for a boost in battery life and access to a full QWERTY keyboard.
Still no word on pricing or availability for either the tablets or phone, but we'll update this as soon as we find out more.

For more blogs, stories, photos, and video from the world's largest mobile show, check out PCWorld's complete coverage of Mobile World Congress 2012.