The Galaxy Note 10.1, announced Monday at Mobile World Congress in Barcelona, is the second entry in the company's pen- and touch-capable Galaxy Note line. Now that it's here in a full-size tablet with a 10.1-inch screen, the Note seems set to shine in a size and design that makes more sense than the 5-inch phone that Samsung inaugurated the line with two months ago.
We had a sneak peak and got to see the tablet in-action–and had just enough time with it to form some initial impressions.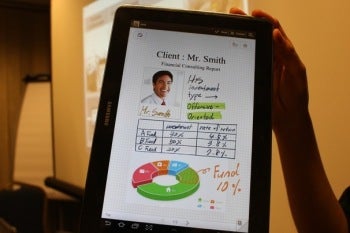 As I noted in my hands-on of the 5-inch Galaxy Note phone/mini-tablet, it was in dire need of an operating system that's optimized for larger displays, especially if you plan on using it as a tablet. The Galaxy Note 10.1 rectifies that issue by shipping with Android 4.0 (aka Ice Cream Sandwich); for those keeping score, it's now the third tablet announced in Samsung's 2012 lineup with Ice Cream Sandwich preinstalled.
In addition shipping with Android 4.0, the Note 10.1 also includes various software features that let it take full advantage of the pen and larger screen. The S Planner calendar and S Note apps now make better use of the additional screen real estate, and the Note comes with pen-compatible versions of Adobe's Photoshop Touch and Ideas apps.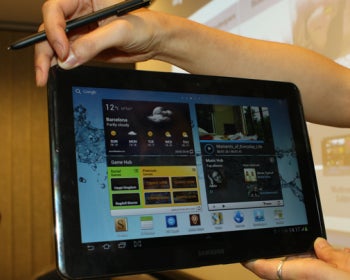 Samsung seems to be putting all of its hopes on the Galaxy Note 10.1: While the Galaxy Tab 2 feels like a mere incremental update, the Note 10.1 shines. It edges its Galaxy Tab 2 10.1 cousin in processor speed, clocking in at 1.4GHz, compared to the 1GHz dual-core processor on the Galaxy Tab 10.1. It also has Wi-Fi channel bonding for better Wi-Fi performance on supported routers, and it offers a superior front-facing camera (2 megapixels versus the Tab 2's VGA resolution). And the Note 10.1 will come in a 64GB version, whereas the Tab 2 10.1 tops out at 32GB of storage.
The Note even weighs 5 grams less than the Tab 2, and at 8.9mm at its thickest point, it's slightly slimmer than the 9.7mm-thick Tab 2 10.1. Another difference between the Note 10.1 and the Tab 2 is the Note's support for Samsung's S Pen, which is the company's WACOM-style stylus for its Galaxy Note line. The S Pen is pressure-sensitive, so it can draw heavier or lighter lines, depending on how hard you press down with it.
Samsung redesigned the S Pen for the Galaxy Note 10.1 to be more sensitive to pressure than its earlier incarnation , and it now also includes a virtual eraser. The company also enhanced the S Note software to better support digital writing and formula recognition, with templates, objects, and editing tools. Plus, there's "shape assistance" for those of us who are artistically challenged and need the Note to translate our lopsided attempts at drawing into something actually recognizable.
The split-screen view is one of the more clever and useful innovations on the Note 10.1: It lets you have one app, such as a Web browser or a book, open on one half of the screen, thus leaving the right side of the screen free for you to jot down notes. The reality is that the handwritten note can still trump the arduous task of typing, and this feature could be a real boon to students, scientists, graphic artists–really, anyone who's ever needed to sketch something out.
The pen is an optional add-on (though it comes standard on thel 5-inch Galaxy Note), and the tablet unfortunately lacks a spot to store the pen. Still, I expect the S Pen will be the reason many people consider buying the Note 10.1 over another tablet like Apple's iPad.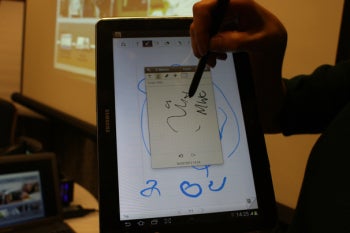 As I mentioned earlier, Samsung conveniently bundles Adobe's Photoshop Touch app, which has been optimized to support the pen's pressure-sensitive drawing, and Adobe Ideas app, for vector drawing. Samsung's hope for finding a business audience for the Note are clear, too, with Exchange ActiveSync support, on-device encryption, and Cisco and Juniper Junos Pulse VPN support all baked in.
While we saw the tablet in action during our first look, the real test will come when we go hands on at Mobile World Congress. Stay tuned for that, and plenty more action from Barcelona and Mobile World Congress this week.
MWC 2012: Samsung Gadgets Get Larger Screens, Projectors

For more blogs, stories, photos, and video from the world's largest mobile show, check out PCWorld's complete coverage of Mobile World Congress 2012.