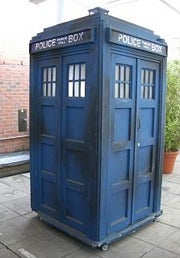 Sometimes, in order to show your true love for a program such as the long-running Doctor Who series, you need to do more than just collect all the available merchandise. With the help of an Arduino board and a little hacking, you can put your geeky prowess to use anywhere with an elevator, and create your very own TARDIS.
The idea comes from SparkFun's Mike Grusin, who put together a tutorial on how to transform a typical elevator into something The Doctor would be proud of. In addition to the flashing blue TARDIS light, the mod will also make the elevator play the time machine's taking off and landing sounds, without needing to hack into the elevator's main infrastructure.
The hack requires you to build a self-contained unit on the elevator's drop-ceiling, and it used an accelerometer to detect when the lift is moving. The Arduino board reads the accelerometer, and works out when it needs to play the correct sound effects. Two blue LEDs will also pulse at the same time as the sounds. The entire setup is battery-powered; certain amplifiers and MP3 chips have a "sleep mode" when not in use, which should help keep the battery from draining too quickly.
According to Mike, the TARDIS mod made people within the building either laugh or look confused, so it would certainly be funny to set this up in your own work or apartment building to check out the reactions of others (just get the building manager's permission first; otherwise, the added equipment could be mistaken for something malicious). Mike's future improvements include a better sleep mode and more customizations to make the mod even more like the TARDIS, but even now, this is one elevator you wouldn't mind wating for.
Sadly, we couldn't find a video or photo to show the elevator-TARDIS in action. That said, if this is still an idea you want to try out, you can read the full tutorial (complete with coding) over on the SparkFun website, and also buy the shopping list of equipment.
Like this? You might also enjoy…
Get more GeekTech: Twitter – Facebook – RSS | Tip us off