If you buy a Kindle, you get free 3g service with it to download ebooks. But if you want to use this 3g service for other things–and don't mind breaking Amazon's terms and conditions–a recent hack shows how you can use Kindle 3g connection to browse the Web on another device via tethering. The work-around requires a specific model of Amazon's e-reader, namely the Kindle Keyboard 3G, and the willingness to jailbreak your device.
As described on Likitung's World, in order to tether your Kindle, you will first need to turn on the Kindle's debug mode and type in some specific commands. With these commands inputted you then need to connect the Kindle by USB to the computer you want to tether with. The computer should recognise this new device and then it's just a case of adding some network settings and tweaking browser proxies.
The hacker behind this technique, Andrew D'Angelo, warns that you should only use the Kindle's complimentary 3G in this way "in an emergency," as this hack will violate Amazon's terms and conditions.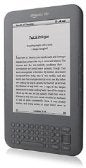 Not only that, but as pointed out by Hack-A-Day, any traffic sent through a Kindle is tied to a unique identifier; this means that Amazon can find out if you use this method to gain free Web access on non-Kindle devices, so this isn't something we'd condone trying yourself.
Despite this, D'Angelo is now looking into how to get the Kindle's 3G working over WiFi with Android and jailbroken iOS devices.
[Likitung's World via Hack-A-Day]
Like this? You might also enjoy…
Get more GeekTech: Twitter – Facebook – RSS | Tip us off | Follow Chris Brandrick