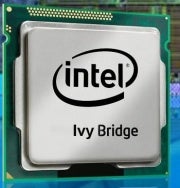 Intel's Ivy Bridge microprocessors will arrive later than expected, apparently due to delays in the manufacturing process.
The first Ivy Bridge chips were due to arrive in April, but they've been pushed back by eight to 10 weeks, Financial Times reports. "I think maybe it's June now," said Sean Maloney, Intel's executive vice president and chairman of Intel China.
But over at Forbes, Patrick Moorhead reports a different story. Intel PR told him that Ivy Bridge has only been delayed a few weeks, and unnamed industry contacts say they are only seeing short delays.
In any case, Moorhead writes, computer makers should have no trouble shipping their next-generation Ultrabooks in time for the back-to-school shopping season.
What Is Ivy Bridge?
With Ivy Bridge, Intel will shrink its chip microarchitecture to a 22-nanometer process, using 3D transistors. Compared to the existing 32-nanometer process for Sandy Bridge microprocessors, Intel claims that the smaller die size allows for either double the power efficiency or double the performance. For the next generation of Ultrabooks, you can expect big battery life gains to result.
The arrival of Ivy Bridge should also bring much-needed price drops for Sandy Bridge-based Ultrabooks. Earlier this month, DigiTimes cited unnamed sources who said prices for existing Ultrabooks could fall by 20 percent to 30 percent with the arrival of Ivy Bridge. That'd be a huge relief considering that the priciest Ultrabooks, such as Samsung's Series 9, cost $1,400 and up, and the cheapest ones haven't fallen below $800.
Intel is planning a major marketing push for Ultrabooks starting this spring. But if the company wants sales to jump accordingly, it'll need prices to go mainstream. Hopefully the relief from Ivy Bridge isn't too far off.
Follow Jared on Twitter, Facebook or Google+ for even more tech news and commentary.