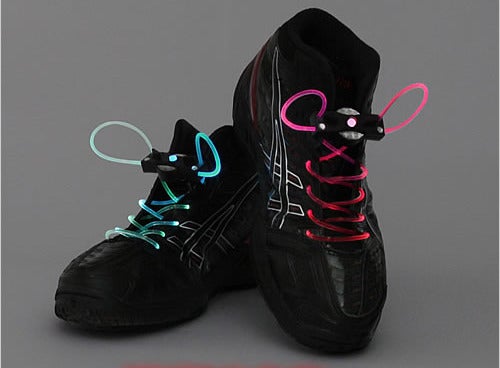 Last summer, GeekTech told you about Revolights, a cool light for your bicycle that makes your bike more visible to drivers at night. It looked cool, too. If you want to bring this sort of Tron-like awesomeness to your feet, these LED shoelaces [site is in Japanese] could be for you.
These thin rubbery laces connect to a lithium battery and control unit mounted to the tongue of the shoe. From the control unit, you can choose three different glow patterns and seven different color options. The lace is flexible, so it should thread through your favorite shoes' eyelets readily.
Of course, these laces don't just have to be used on shoes–you could put them on your dog like a collar for those early morning or late night walks, around your wrists or on your bag–whatever you feel is safer for you or your family and pets.
The laces cost 580 yen, which is around $7 US, so they're not unreasonable. On the downside, this paricular pair is only available in Japan for now, but you can find similar products on Amazon. We'd love to see something like this that didn't require the big control unit in the tongue, though…
[esupply.co.jp via Ubergizmo]
Like this? You might also enjoy…
Get more GeekTech: Twitter – Facebook – RSS | Tip us off