At a Glance
Expert's Rating
Our Verdict
Balsamiq Mockups lets designers and non-designers create compelling interface drafts for websites, Web apps, and desktop apps.
We use software all the time, and so it only makes sense that we all have ideas about what it should look like and how it should work. Balsamiq Mockups ($79 for a single-user license; discounts available in volume packs) is a rapid wireframing tool. It lets designers, developers, and other stakeholders all take part in the design process of a new application or website.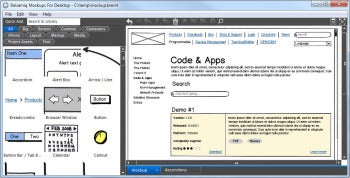 It is almost impossible to discuss Balsamiq (the product) without introducing Balsamiq (the company). Balsamiq was founded in March 2008 as a one-man company with a manifesto that starts with "focus, focus, focus." Its founder, Peldi Guilizzoni, made a splash with unorthodox tactics such as sharing his revenue numbers early on (even when they were very low) and not taking any outside investment. The company experienced an impressive growth spurt, made over $4.5 million in the first thirty months of business, and now lists twelve employees on its website.
The website, as well as the application, feel decidedly familial. The application's Help menu has an entry that reads "What should I make for dinner?" Clicking it takes you to a page on the company website where employees share cooking videos.
All of this serves to show that Balsamiq is an application with real character. This is important, because its basic functionality is similar to that of Java-based WireframeSketcher ($75) and Web-based tool Lumzy (free).
That is not to say it's not good: Balsamiq is very good at what it does, which is letting you jot out interface ideas quickly and with minimum fuss. The application feels polished, and usually stays out of your way. It comes with dozens of widgets such as a search box, tabs, a browser window, and more. If you can't find a widget you need, Balsamiq also offers Mockups To Go, a simple website with over a hundred widgets which you can download and use freely. There's no search function, though, so prepare to rummage through the site category by category.
You can add widgets to the canvas using a quick-add tool: Just start typing "button," and the tool instantly pops up several suggestions. Now just pick the one you want, hit Enter, and it appears on the canvas. You can either drag it into place, or add several widgets in rapid succession and then move them around to build the interface you need. Widgets that contain text support a simple Markdown-like syntax, so it's easy to simulate hyperlinks and make text bold or italic.
When moving widgets around, smart guides appear, much like those used in Adobe Illustrator, CorelDRAW and other drawing applications. You can use these to align widgets effortlessly. Like many other wireframing tools, Balsamiq purposely uses a hand-drawn look, for a result that "no one is afraid to criticize" (because it doesn't look like a polished mockup that took hours to make).
While Balsamiq doesn't offer real-time collaboration, it does support change detection: You can share a Balsamiq file with a remote user using Dropbox, and the application will detect when the file changes and offer to reload it. This way you can both have the file open while you're on the phone or Skype, and each can make changes in turn. Beware of conflicts, though: Make sure only one of you is editing at any given time.
If you are just starting out with wireframing tools, $75 may be a bit steep (especially given free alternatives such as Lumzy). But if you are already drawing interfaces and are looking for something with more oomph, you should at least take Balsamiq for a 7-day trial spin.
Note: The Download button takes you to the vendor's site, where you can download the latest version of the software.
–Erez Zukerman