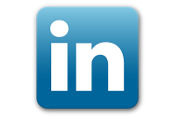 LinkedIn is the latest social network to jump on the Twitter-like "following" bandwagon–on Monday, the business social network released a button that allows users to follow their favorite companies.
Companies on LinkedIn can add the new button, called the "Follow Company" button, to their websites. LinkedIn users will then be able to click the button to follow that company's status updates on LinkedIn.
According to LinkedIn, over two million companies have accounts on the network. Some of the first to post Follow Company buttons on their websites include AT&T, Starbucks, Sony, American Express OPEN, Rypple, DonorsChoose, and Kiva.
While the new button allows you to follow your favorite companies, LinkedIn didn't reveal whether the button also allows companies to follow you by placing tracking cookies on your computer. If this is so, this may not have been the best time to roll out this new feature, especially in light of the hot water Google has recently found itself in over the practice.
Follow freelance technology writer John P. Mello Jr. and Today@PCWorld on Twitter.