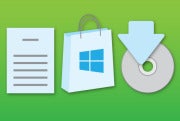 Warm up your cable and DSL modems, they're about to get busy. The Windows 8 Consumer Preview (read: beta) is ready for the general public to download and install. The Consumer Preview is definitely not a fully complete and tested copy of Windows 8, so make sure you don't do anything crazy like wipe out your existing Windows installation or run it on a machine you use for mission-critical work.
Download the Windows 8 Consumer Preview here.
There's a setup program, or direct ISO files for 32-bit and 64-bit versions of the OS. Most modern PCs should probably grab the 64-bit version. Note that just because there's only one edition of the Windows 8 Consumer Preview, that doesn't mean there will be only one upon release. Microsoft has not yet said how many editions of Windows 8 we can expect, nor what they'll each include.
Here's a few of the things you can expect from the Preview:
The Start Screen with its Metro interface, including the Pictures and People hubs and several built-in applications like Mail, Calendar, and Maps.
Tweaks and improvements to the Windows 8 desktop.
Tight integration with Skydrive and Live services.
A select set of applications in the Windows 8 Store. The applications in the Store should all be free, and come from partners Microsoft has been working with prior to launch.
A look at Internet Explorer 10, both in the Metro interface and on the desktop.
The new Music and Video hubs, which integrate with the Zune music and video store (but don't use Zune branding).
A new Xbox Live gaming hub with downloadable games and your Xbox Live avatar.
Enhanced Multi-monitor support.
In short, it's a good look at some of the dramatic changes Windows 8 will bring, but it still needs some polishing, tweaking, and lots of performance and compatibility testing. If you have a spare partition on your PC or an entire PC to dedicate to testing it, download it and give it a shot, then let us know what you think in the comments.
For more on Windows 8, head to our Windows 8 Resource Center.
Have you downloaded Windows 8 Consumer Preview? Or do you have no interest in changing to a new version of Windows? Either way, we'd like to hear your opinion. Please take PCWorld's Windows 8 Survey. It'll take five minutes or less.
Follow Jason Cross on Twitter.