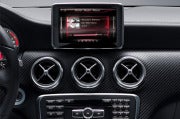 Mercedes will integrate Apple's Siri voice-assisted technology into future A-Class models of its cars. This will be done via a special app that will also translate an iPhone's screen onto the in-car display, so you can listen to music, change radio stations or update your Facebook and Twitter status.
The technology will be available in Mercedes' full range of city cars (starting at $25,000), but first drivers will have to install the company's Drive Kit Plus app on their iPhones. The app allows you to control the phone from the car's in-dash display and a controller found on the center armrest. Note: It could be a bit like KITT from the 1980s Knight Rider TV series.
How Siri Will Work in a Mercedes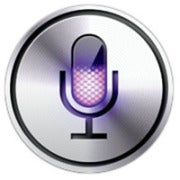 This is where Siri comes in: instead of having to memorize certain commands, the iPhone personal assistant allows natural speech input for tasks such as sending messages, making appointments, playing music, getting directions or checking the weather forecast. Siri is a feature exclusive to the iPhone 4S so far–this would mark the first time Apple allowed the technology to be used in conjunction with other hardware.
A separate Digital DriveStyle app will also give access to personalized radio stations, navigation directions with internet-based real-time traffic information, online points-of-interest searches, and 3D map display from Garmin. A car finder feature will also store the vehicle's location, so you don't forget where you parked.
Mercedes said you won't need the top of the line in-car entertainment system to get this kind of iPhone integration, as apparently the functions can be used even with the entry-level Audio 20 system.
More Mercedes Apps Coming
But Mercedes' love for apps doesn't stop here. The company plans to introduce a dozen or so new apps this year along with a dedicated app store for in-car systems, with the first two named as Parking Finder and Morningstar Finance, that offers access to stock prices.
These apps won't be stored in the vehicle; they'll run off the Daimler Vehicle Backend. The advantage of this is that applications can be updated in the cloud, without the need to visit a workshop. Also, the data transfers will be made via tethering your phone's connection via Bluetooth, so you don't need an additional data contract.
Mercedes has yet to give specific availability dates for the apps and new integration, but the company is expected to debut the new A-Class cars on March 8 at the International Motor Show in Geneva, Switzerland.
Follow Daniel Ionescu and Today @ PCWorld on Twitter