At a Glance
Expert's Rating
Pros
Free
Fun way to learn the ins and out of MS Office
Finally, a great use for Clippy
Cons
Sometimes slows down Office startup and operations
Failed to detect when I completed an action
Our Verdict
Ribbon Hero 2: Clippy's Second Chance is a fun, interactive way to master Microsoft Office.
Remember Clippy, the Microsoft Office paperclip? Well, he's back, with a vengeance! Ribbon Hero 2: Clippy's Second Chance (free) is a Microsoft Office add-on that's also a game. Microsoft Office Labs's tongue-in-cheek game features the most infamous paperclip around–only he's much nicer this time, and even manages to be helpful.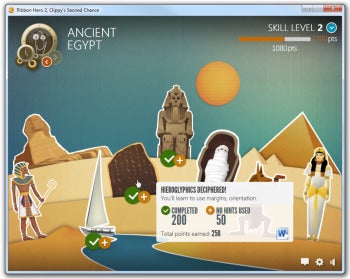 Ribbon Hero 2 is an educational game for grown-ups: It tries to teach you to use Microsoft Office with no videos or long texts, but just with small, fun interactive tasks. This is Microsoft's second take on the format, expanding the original Ribbon Hero game with more content and introducing new game features. The game integrates right into Office, and is available as a button on the Ribbon interface (the game requires Office 2007 or 2010).
The game's storyline starts off with a comic strip showing Clippy sitting in his mother's basement, playing a video game. His mother is disappointed in him because it's been so long since he held a job (2001, to be exact). She sends him off and tells him not to come back until he's gainfully employed.
Looking at the classifieds, Clippy notices an ad for someone who "loves to help" and is experienced with Microsoft Office. One thing leads to another, and Clippy finds himself in a time machine that has gone out of control and takes him to the Middle Ages.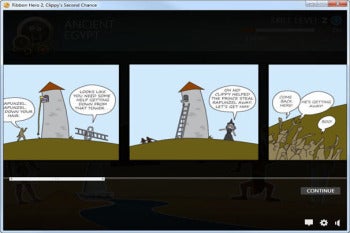 That's where Ribbon Hero 2's gameplay starts: Each level happens in a different time period, and features tasks you must complete in different Microsoft Office 2007/2010 programs. There are tasks for Excel, Word, PowerPoint, and even the note-keeping application OneNote.
When you launch a task, its application opens and loads a document for that task. The documents are beautiful and playful, and they relate to the period in which you're playing. For example, you learn about animations in PowerPoint in the Middle Ages level by applying a Fly In animation to a knight, to make him charge at a dragon. Then (in the same task), you change the effect to make the knight fly in from the left, and then use the Ribbon to preview the animation.
Ribbon Hero 2 is shown as a sidebar, and monitors your activity to see when you complete each part of the task. So as soon as you apply the Fly In animation (in the example above), Ribbon Hero automatically detects this and applauds you, moving you to the next step. This worked well for me, except for one time when I did something in a way the game did not anticipate–I got the job done, but it wasn't detected. To fix this, I restarted the task and did it like the game wanted me to. If you're not quite sure what to do, you can click the button captioned "Need a Hint?" Each step has multiple hints–if the first hint isn't enough, you can ask for another one. The fewer hints you use, the more bonus points you get upon completing the task.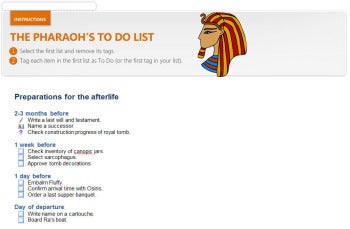 One drawback of Ribbon Hero 2's monitoring engine is that it sometimes slows down Office. I once launched Word for some routine work and made a bit of text bold; Word froze for a few seconds, and then made the text bold and popped up a message saying something like "Bold Text! 5 Points!" Ribbon Hero 2 was monitoring my work even when I wasn't actively playing it. That's okay with me, but it really shouldn't make Word less responsive.
Ribbon Hero 2: Clippy's Second Chance is a playful, innovative experience, and it's a great way to become more proficient at using a suite of applications many of us spend countless hours in. This is one game most of us can safely play at work, and best of all, Clippy is no longer trying to guess whether or not you're trying to write a letter.
Note: The Download button takes you to the vendor's site, where you can download the latest version of the software.
–Erez Zukerman