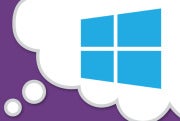 The Windows 8 Consumer Preview is only just becoming available to the public, but we've had the opportunity to use it for a few days on a Samsung slate nearly identical to the one we sampled at the BUILD conference for developers last year. While the device we're using is nearly the same, the operating system itself has undergone a lot of refinement since our initial report last September. We can't wait to install the Consumer Preview on a wide variety of current PCs and tell you all about how well it does or does not work, as well as provide tips and tricks for those of you installing it for yourselves. We know you don't want to wait, so we offer our initial impressions of the release based on several days with a Microsoft-provided, Samsung-built slate running the same release the public will download. There's only one major difference: the Store is not yet functional, so these impressions are based only on the apps built into the Windows 8 Consumer Preview itself. Jason Cross says: This is definitely not the flaky, feature-light version of Windows 8 released for developers last year. It's dramatically smoother and more responsive. Apps snap open, and flipping between them is immediate. The People and Photos hubs are there, showcasing Windows 8's integration with multiple services like Facebook, Google, LinkedIn, and Flickr. Using these new apps and hubs with a touchscreen is a joy. They could all use a little polish and a few more features, though. It needs to be easier to save photos locally from Facebook or Flickr in the Photos hub, for instance. Everything is big, bright, smooth, and beautiful. I confined myself to a bluetooth keyboard and mouse for awhile, and the experience is definitely diminished.
That's not to say the keyboard and mouse experience is bad, mind you. I'm actually quite delighted at how well the whole Metro-style interface works with them. Microsoft has made some very welcome tweaks to accommodate the hundreds of millions of users with no touchscreen. It's just so…new. I spent a good hour just discovering how to do things I've known how to do in Windows for over a decade. It's usually a good feeling, because when I figure out how Windows 8 does something differently (like display all installed programs), I'm usually impressed by its speed and elegance. Let me say that again: I'm impressed by the speed and elegance of a Microsoft interface. Really!
[Related: Windows 8 Consumer Preview: A Visual Tour] Unfortunately, I think it's going to get rough welcome. People often don't like change at first. Just look at the way every little tweak to the Facebook interface is received. It takes a little time, and a little trial and error, to discover where everything is, how it works, and how to get around. Then it takes a little more poking around to get really fast at it. We all know how the Internet works: there are people who will use something for two minutes (or not at all) and spend the rest of the day complaining about it on forums, comments, message boards, and social networks. I can sympathize. It's unsettling to see such basic tenets of the Windows user experience shifted so dramatically. Windows 8 wants me to do a lot of things through the Metro interface that I used to do on a desktop interface, and there was some natural resistance to that at first. I only had to look for something in the wrong place once to become frustrated, and it took a little time to unlearn all I had learned since Windows 95.
The good news is: there's a payoff for sticking with it. It doesn't take long, and before you know it you're using new shortcuts and flying around the OS like an old pro. I can't wait for the Store to launch, because much to my surprise, I find myself really valuing the Metro-style applications and they way they operate, even when using a keyboard and mouse. I want Metro apps for Spotify and Evernote, a great Twitter client and a native Facebook app. I want a Metro-style front end for Steam. I have some concerns about how well everything scales to a large monitor, but more and more, as I spent time with the Windows 8 Consumer Preview, I just wanted the OS to be done and on the market already. So I suppose that's "mission accomplished" for the folks in Redmond. Nate Ralph says: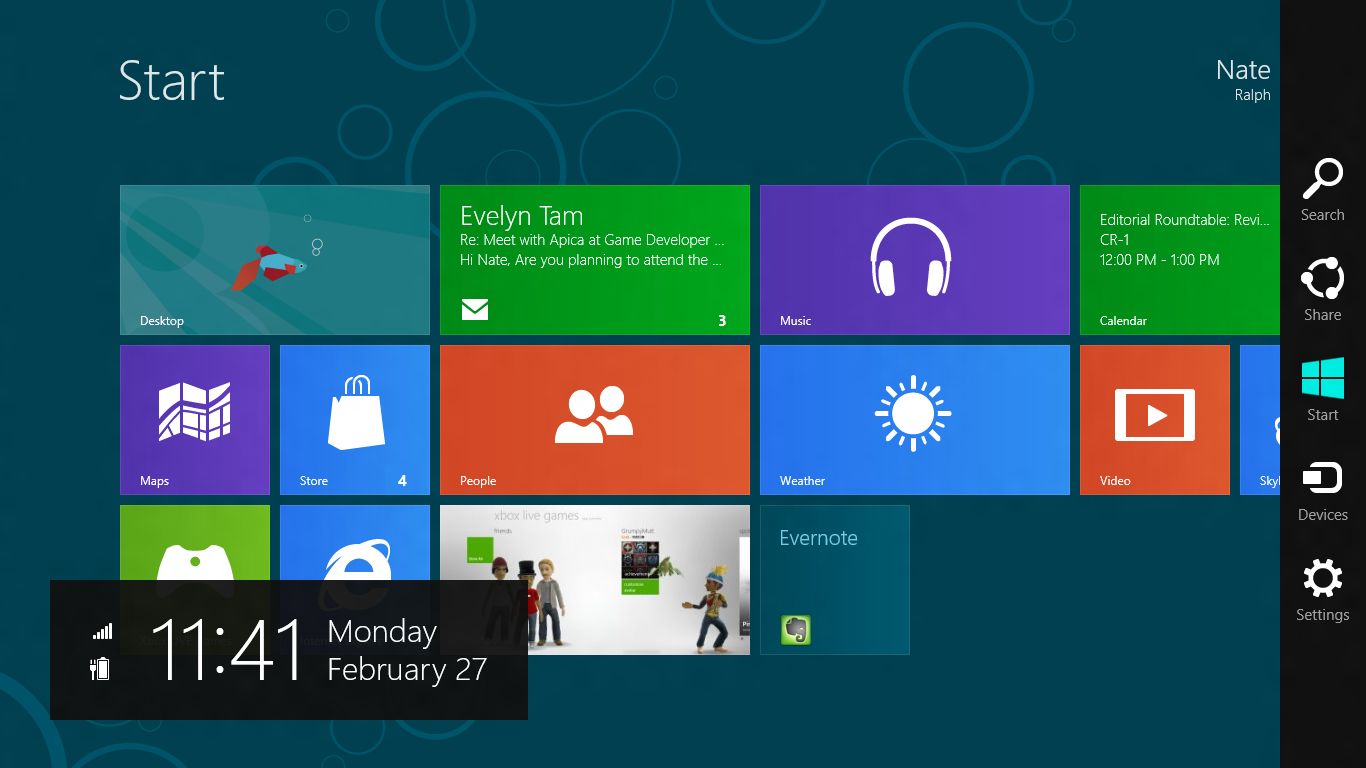 Touch has always been an interesting novelty, but I kept the slate running the Consumer Preview docked, relying on the keyboard and mouse to get around. And every so often, I found myself trying to nudge the cursor along with the spacebar, wondering where my trackpad had gone. Eventually I'd give up and use a finger to tap on the particular app I'd been trying to get to, all the while oblivious to the mouse idling beside my hands.
That's the right sort of disorienting. Tablets imply limitations: consider Android and iOS, operating systems explicitly designed to meld well with your hands. Grids of fixed, finger-friendly icons are all but mandatory, to ensure the user experience is a fluid one.
Windows 8 abandons any such notions; the device melts away, and you're left with a canvas that responds to your interactions. Gestures make sense, whatever your input preference: I slid effortlessly between dragging my finger across the screen, clicking around with the mouse, and tapping at the keyboard, depending on whatever made sense at the moment. This versatility is going to be key for users trying to make sense of the bold new interface.
And then I remembered the stylus. Windows has offered phenomenal, native handwriting recognition since the halcyon days of XP – but good luck finding an application or device to take advantage of it. Hopefully, the push for Windows 8 tablets is going to alleviate that issue. But this is yet another facet of that uncompromising design that's driving everything about the Windows 8 experience: I typed on a keyboard when the slate was at my desk, but took the stylus to meetings and wrote notes by hand.
Bizarre, that in light of all of the new features I reach for something as archaic as a stylus. But I've waited years for this – an operating system that works with me. The device is largely irrelevant – I happen to like taking notes with a pen, but use a combination of the touchscreen and a keyboard. Windows 8 leaves every option on the table, and that's fantastic.
I'm still a little concerned about how this will translate onto larger screens – especially once the apps start to pile on. But things are shaping up nicely– consider me smitten.
It looks like Windows 8 is certainly going to take some getting used to. But underneath that daunting new interface are a wealth of smart decisions that go a long way towards dragging the behemoth that is Windows into the future. Perhaps most promising is the stuff we haven't looked at yet: the apps, and the way multiple Windows 8 PCs and tablets sync together. What we see here has us excited, but it doesn't have the level of polish that makes us think it's just about ready to go. Judging by the quality here, it looks likely to release this fall, though Microsoft has made no official announcement.
If you want to see for yourself, download the Windows 8 Consumer Preview and let us know what you think of it in the comments.
Have you downloaded Windows 8 Consumer Preview? Or do you have no interest in changing to a new version of Windows? Either way, we'd like to hear your opinion. Please take PCWorld's Windows 8 Survey. It'll take five minutes or less.
Follow Jason Cross and Nate Ralph on Twitter.

For more blogs, stories, photos, and video about Microsoft Windows 8, check out PCWorld's complete Windows 8 coverage.