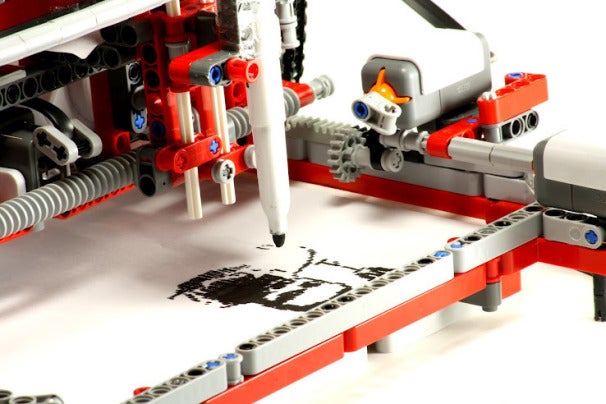 The next time you have a quick black and white image to print you might try sending it over to print out on your Lego bricks. A new project, called the PriNXT, is a simple but effective printer built out of everyone's favorite toy.
The PriNXT by Leon Overweel is made from Lego's Mindstorm system that lets you add motors and some programming magic to your Lego projects. Even though he's just 14 years old, Leon managed to build the PriNXT along with a number of other Lego projects–including a Skype-controlled Lego Car.
The printer essentially works like a traditional dot-matrix printer. A series of motors, controlled by the NXT set, positions the print-head (a marker in this case), and then steps it down to touch the paper to create one dot of the overall image. It then repeats the process until the image is completed.
The printer does have some serious limitations at the moment: Its print area is just 50 by 50 dots, and in order to print an image, Leon has to convert it to black and white and then into binary. Still, it's some impressive tech considering what it's made from. If you want to try it out yourself Leon has generously shared his designs, along with the code that makes it work, over on his blog. While you're there, check out his sweet new logo, printed on the PriNXT.
[World of Mindstorms via MAKE]
Like this? You might also enjoy…
Get more GeekTech: Twitter – Facebook – RSS | Tip us off