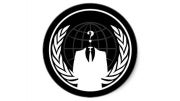 Interpol said Tuesday that 25 people suspected of being affiliated with the Anonymous hacking group were arrested in four countries in South America and Europe, with authorities seizing IT equipment, payment cards and cash.
The arrests occurred across 15 cities in Argentina, Chile, Colombia, and Spain, Interpol said in a news release. They followed an investigation called "Operation Unmask" that began in mid-February in the aftermath of cyberattacks directed at Colombia's Ministry of Defense and its president's website, and at Chile's Endesa electricity company and its national library.
Authorities searched 40 premises and seized 250 items, including computer equipment and mobile phones. An investigation into the funding of the alleged hackers' activities continues, Interpol said.
A prominent Twitter account linked to Anonymous, AnonOps, hinted that the group had launched a retaliatory attack on Interpol's website on Wednesday. One tweet read, "Tango Down II 404 Interpol."
Anonymous often conducts distributed denial-of-service (DDoS) attacks against websites, which involve bombarding a site with so many traffic requests that it becomes unavailable.
The arrests mark one of the biggest roundups so far of people allegedly affiliated with Anonymous, a decentralized group that undertakes hacking campaigns to protest policies and organizations it opposes.
Separately this week, WikiLeaks on Tuesday began releasing some 5 million email messages from the global intelligence analyst firm Stratfor Global Intelligence, which Anonymous targeted last December.
And earlier this month, Anonymous took credit for recording a conference call between U.S. and British law enforcement agents investigating the group. They posted a 17-minute recording of the call on YouTube.
Send news tips and comments to jeremy_kirk@idg.com.