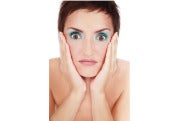 Is your unsightly double chin keeping you from video chatting on your iPhone? Well, never fear! There's a…plastic surgery procedure for that, apparently.
It's called the "FaceTime Facelift" and it's performed by Dr. Robert K. Sigal, a plastic surgeon at the Virginia-based Austin Weston Center for Cosmetic Surgery.
Sigal says he was inspired to invent the procedure–which is different from a regular facelift, but more on that later–when his wife got an iPhone in 2011. His wife didn't like the way she looked when she talked on her iPhone, because when she held it below her face the camera tended to accentuate any "fullness" in the area (of her face).
The FaceTime Facelift is basically a mild neck-lift procedure, but, unlike typical neck-lifts, the incision isn't made under the chin (because, after all, if you're holding your iPhone below your chin, then people will see the scar). Instead, incisions are made behind the ears and a "lateral swing lift" is performed. See Sigal explain the procedure below:
Sigal says that people don't typically come in asking for the "FaceTime Facelift," but rather complain about how they look on their phone's video chat. A couple of quick cuts and a lift, and Voila!–no more neck flab when you video chat.
As The Huffington Post points out, there's an easier, cheaper, and less-invasive way to combat your flabby neck: hold the phone higher and tilt your chin down. Poof–no neck at all! CNN anchors on TV and teen girls taking photos for MySpace alike know of this magical neck-flab-banishing move. But, of course, if that's too difficult (your arm might get tired, after all), go ahead and book an appointment.