Microsoft used the backdrop of Mobile World Congress in Barcelona Wednesday to launch its long-awaited Windows 8 Consumer Preview. In doing so, Microsoft makes a big statement about where it sees Windows' future role on mobile devices–tablets and laptops, but no mention of phones, yet.
The Consumer Preview went live during the event, and Microsoft said that in the first hour, it had already had downloads from over 70 different countries. The company revealed little news; it's still too early to have details about availability, pricing, and distribution for Microsoft's radically new OS. But we did get a look at the Microsoft Windows Store–now live–and more insight on how Windows on ARM will work.
The Microsoft Windows Store, first previewed in December of last year, is now live. And all apps during the Consumer Preview period will be free but only when using the new preview version of the OS.
We got glimpses of some of the apps that are ready, among them Microsoft Word for Metro, Amazon Kindle, and Vimeo. Microsoft also announced the eight winners of its app contest; those apps will come with the final version of Windows 8.
More Than 100,000 Updates to Previous Version
Microsoft said there are more than 100,000 changes to the OS since the Developers' Preview released in September 2011. The free Consumer Preview is now available in English, German, French, Japanese, and Standard Chinese. Plus, for developers, the big news is that the Visual Studio 11 beta is now available as well.
[Read: PCWorld's Windows 8 Consumer Preview: Initial Impressions]
"We set out to do a bold re-imagination of the [PC] experience," Steven Sinofsky, president of Microsoft's Windows Division, told a private event the software giant held for several hundred members of the media, industry analysts, and Microsoft partners. "We challenged ourselves to bring [together] the best of mobility and the best of PCs, without compromise."
To do so, Sinofsky said, "We took a new approach to building Windows 8. We looked across the OS, the apps, the development platform, and the hardware itself, to see how we could engineer better, and with more efficiency, to enable a broad array of choice for consumers. And to do it all with a unified OS experience across all devices."
It appears that Windows 8 marks the biggest shift in how PC owners will interact with Windows since the launch of Windows 95. And Sinofsky himself noted that "Windows 8 is a generational change in the operating system. It's a generational change in the functionality, and in how we do things."
What's New in Windows 8 Consumer Preview
The free Consumer Preview, now available for download, represents a smoother, more refined experience when compared to what we saw at Microsoft's BUILD event in September 2011.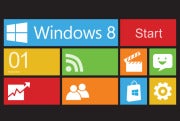 As demoed on stage Wednesday, the navigation of the Metro-style interface was better refined when using a mouse and keyboard; the integration of the desktop became clearer (desktop apps appear in their own screen, and they behave just like the desktop does today, so those of us who have scores of windows overlaid at once can still do so); and app navigation by touch was far more smooth.
[Slideshow: Windows 8 Preview–A Visual Tour]
Progress in Windows 8 Since the Last Public Briefing
This mass unveiling was more high-level and glossy than the version Microsoft showed at the company's BUILD briefing for media last September, but it also was more convincing, simply because the OS is farther along in development.
More noteworthy was Microsoft's discussion of its Windows 8 video and music stores. By including content storefronts, Microsoft enters familiar territory–it already has its Xbox Live Marketplace for its game console and Zune Marketplace on its Windows Phone platform. And this will help Microsoft better compete with Apple and Google, both of whom have their own media stores to make it easy to get media onto your device.
As with the developer preview, the Consumer Preview code will not be stagnant. Microsoft says there will be ongoing updates to the OS and Preview apps along the way as it marches toward final release. Microsoft gave no timeline for Windows 8's release, but did say the next milestones are the release candidate version, the release to manufacturing version (RTM), and the gold version.
For more blogs, stories, photos, and video about Microsoft Windows 8, check out PCWorld's complete Windows 8 coverage.

For more blogs, stories, photos, and video from the world's largest mobile show, check out PCWorld's complete coverage of Mobile World Congress 2012.