Lesson one: It's pretty easy to use up all of your wireless data service for a given month. Lesson two: When you do that, the phone company says that it'll knock your speed down into 2G territory–and it's not kidding.
Here's what the T-Mobile terms of service say: "To provide a good experience for the majority of our customers and minimize capacity issues and degradation in network performance, we may take measures including temporarily reducing data throughput for a subset of customers who use a disproportionate amount of bandwidth."
It continues: "In addition, if your total usage exceeds 5GB (amount is subject to change without notice; please check T-Mobile's T&Cs on www.T-Mobile.com for updates) during a billing cycle, we may reduce your data speed for the remainder of that billing cycle."
Maxing Out My Data
For this test I intentionally maxed out my T-Mobile data plan by downloading some movies from the Internet Archive. It took only two movie downloads for me to reach my plan's 2GB limit.
Nowhere in its terms of service does T-Mobile say anything about 2G speeds, but that's what I got fairly soon after I reached the limit. And the text messages that T-Mobile sent me as I neared, and then passed, my limit explicitly stated that my subsequent data transfers would be slowed to 2G speed: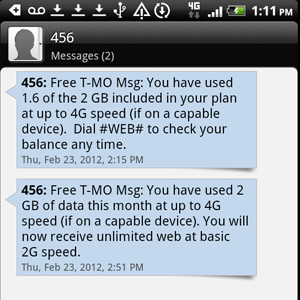 The movie I was downloading did finish successfully, and I didn't notice an immediate change in the download rate after I had passed the limit.
I dialed #web# on my phone (an HTC Amaze) and (on the second attempt) got this pop-up: "You have used 2.0207 GB."
Speeds Fell Sharply
My plan was to max out my data allotment and then check my throughput speeds every day for a few days to see whether the carrier would gradually reduce my phone's data transfer rate to 2G speed, or whether it would immediately throttle the rate down all the way. The second hypothesis turned out to be the true one.
This little chart lists my speeds before and after I maxed out my data:
DATE & TIME
Download speed
Upload speed
Latency
Mode
Bars
February 23, 2:05pm
7.9 mbps
1.8 mbps
59 milliseconds
4G
3/4
February 23, 4:48pm
0.07 mbps
0.08 mbps
125

milliseconds

2G, 4G
3/4
February 24, 4:56pm
0.07 mbps
0.10 mbps
78

milliseconds

4G
3/4
February 27, 4:47pm
0.07 mbps
0.10 mbps
87

milliseconds

2G, 4G
4/4
As you can see, when I tested throughput a couple of hours before I maxed out my data plan on February 23, I was getting pretty fast service. At about 2:51 that afternoon, I received the text from T-Mobile informing me that I'd passed the limit; shortly thereafter, my phone's download speed dropped from almost 8 megabits per second to 0.07 mbps.
At that slow speed, a Web page that had taken just a few seconds to load before I hit the limit instead took 17 seconds to load. A 1-minute YouTube video that had taken about 1minute, 3 seconds to load and run all the way through now took 4 minutes, 35 seconds. Connecting with the Android Market and downloading an app from it took so long that I gave it up as not worth doing.
To have my 4G speed restored for March, I'll have to pay my regular monthly bill early.
The End of Unlimited
Starting with AT&T, most carriers have done away with unlimited data plans. Sprint is the only carrier clinging to the truly unlimited concept, but even it requires subscribers to pay a $10 "data fee." AT&T and Verizon have adopted tiered pricing plans for data, under which they charge hefty overage fees if you exceed your monthly allowance. AT&T even decided to throttle subscribers who are still on one of the old unlimited data contracts.
And why not? With just four national carriers accounting for almost all U.S. subscribers, the nation's wireless market isn't very competitive. Among the "Big Four," competition isn't especially strong, either: AT&T and Verizon claim a combined 85 percent of the business. So they don't have much market incentive to offer unlimited anything.
Sprint can be seen as the insurgent here, but the company is so troubled–financially and technologically–that the other large carriers aren't inclined to view its unlimited data plan as much of a threat. Most people in the industry believe that Sprint will eventually capitulate and end its unlimited data plan in favor of a tiered scheme with overage charges. In fact, Virgin Mobile–the low-price, prepaid leg of Sprint–has announced that it will begin throttling down users who exceed 2GB a month, beginning March 12.
A False Scarcity?
Wireless carriers have found that it makes economic sense to impose tiered pricing systems on customers, and to profit when customers use too much data. For cover, the wireless carriers have invoked a tried-and-true "sky is falling" scenario, saying that putting restrictions on data use is essential to preserving network capacity in the face of skyrocketing data demand and a dearth of available wireless spectrum.
There may be some truth to this cover story, but the carriers' abandonment of unlimited plans probably has more to do with maintaining healthy profits. The research firm Validas recently reviewed the phone bills of 11,000 users and found that the data usage of so-called "bandwidth hogs" on both restricted (throttled or tiered) and unlimited plans was effectively the same. It appears that data usage restrictions don't even serve the goal that the carriers identified for using them–namely, to preserve network capacity.